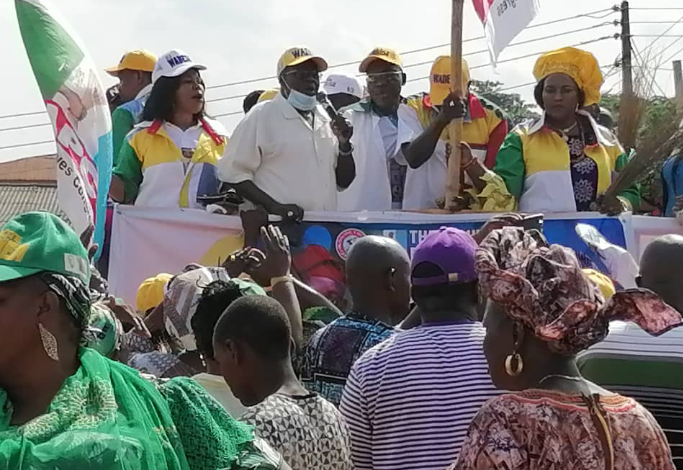 THE leadership of the All Progressives Congress (APC) in Ikorodu Local Government, Lagos State, has flagged-off its campaign towards the July 24 Local Government elections in the state.
The party also presented its flags to its chairmanship candidate, Hon Wasiu Adesina and all the councillorship candidates in five wards that made up the local government.
Speaking at the event, APC chairman in the area Mr Taiwo Longe urged members to come out early and massively cast their votes for the party candidates during the elections.
According to Longe, Adesina has brought monumental developments across the local government in his first term adding that he needs to consolidate it with his second term in office.
He urged the candidates to start their campaign in earnest.
"All the councillors should commence their campaigns as soon as possible to ensure victory of our great party during the election.
" This time, the next four years of this administration is to consolidate his first time achievement on developmental agenda of the LG,"
he said.
Also speaking, the chairman of Ikorodu Community Development Committee (CDC), Mr Lukman Shonibare urged the chairman to channel his concentration to areas like Agura, Gberigbe and all other communities.
He advised the candidate to ensure that those areas were given necessary attention in order to alleviate their sufferings on bad roads adding that they have more numbers of residents compare with the central.
"This administration should focus more on residents who live in areas like Agura, Gberigbe and communities surrounding them.
"The chairman should shift his attention to the local communities so that they too would taste the dividends of democracy," he said.
In his manifestoes, Adesina said that his administration would look at the areas where they were unable to touch during his first term adding that the council would embarked on many empowerment programmes to empower youths with skills in entrepreneurship and agric sector.
He promised to embarked on rehabilitation and construction of road at Solomade area and areas that has been in a sorry state and links roads.
"During our next four years we will attend to places that we have not got to, as well as making our roads motorable.
"All the link roads in our area will also be attended to during our second term, as you can see, our work during the first term of our tenure speaks for us,"he said.