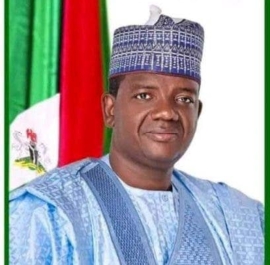 CITIZENS COMPASS – THE Arewa Youth Assembly has advised President-elect, Bola Ahmed Tinubu to ignore any call by  Zamfara State Governor, Bello Matawalle, for President Muhammadu Buhari not to approve any study leave for the CBN Governor, Mr. Godwin Emefiele. 
The Youths cautioned Tinubu from acting against Mr. Emefiele.
In a press statement signed by the Publicity Secretary of the Group, Alhaji Aliyu Sani, it expressed displeasure at Governor Matawalle for "believing and acting on a baseless rumour." The statement by the group noted that a spokesperson in the Office of the President, Mallam Garba Shehu, denied the existence of the imaginary study leave.
Arewa Youth Assembly remarked that instead of the Governor to be afraid of his fate when he leaves office, he is more concerned about the destiny of Mr. Emefiele who is serving Nigerians diligently.
The statement challenged Matawalle to make public the number of persons kidnapped in Zamfara State when the Naira was not in excessive circulation and the number kidnapped after the reintroduction of the Naira.
The group accused Matawalle of failing to guarantee the right to life for citizens of the state as provided for in the 1999 Constitution of Nigeria (as amended) in Section 33.
"Your failure to provide security in the state has halted educational activities, with the closure of schools. At least 75 secondary schools in the state are still shut because of security, tagging the state as an educationally backward state. Zamfara state has a total of 61.4% of children out of school, with boys at 57.4% and girls at 66%."
The group said in contrast to variuis steps  by Matawalle, Emefiele was busy working hard to boost the economy by impacting all sectors through programmes like Anchor Borrowers' Programme, Commercial Agriculture Credit Scheme, intervention programmes and schemes for MSMEs and manufacturers as well as exporting activities.
"This has helped in increasing revenue generation outside crude oil, thus helping this administration to actualize its diversification agenda, creation of employment, alleviating poverty, and recreating Nigeria's image before the world," the statement said.
' "While you were busy spending Zamfara people's money on irrelevant things, Emefiele was busy on Naira redesign, a policy that had the power to stop insecurity, curtailed corruption, and drop the prices of commodity immediately. Conversely, the problems came back in full immediately after cash started flowing, people were no longer safe, and bandits hit Zamfara, Kaduna, Minna, and other parts of the country."
' "For this alone, Emefiele should be given a gold medal and celebrated, for he helped President Buhari abide by the constitution that states the security and lives of citizens are paramount.
"All that Emefiele has done are with the blessings of the commander in chief, his activities have been completely transparent and accountable, the records are there, the world is digital, every naira, every kobo is accounted for how it comes in and how it is spent.
"For the records, even if there were requests for study leave, it is legal. The Public Service Rules make ample provision for the training and development of Civil Servants, to enhance the officer's performance."
" Study leaves are approved to allow an employee to complete an accredited course of study provided by an overseas educational institution. Study leaves are legal and have been granted before in Nigeria and even in superpower countries of the world. An individual has the right to seek study leave in any part of the world."
The Youth Assembly called on President-Elect Tinubu to note that the North voted for him when the sound of gunshots from bandits went silent as a result of the Naira redesign policy. "Insecurity is the reason why our people rejected the PDP. We saw a workable solution to our number one problem."