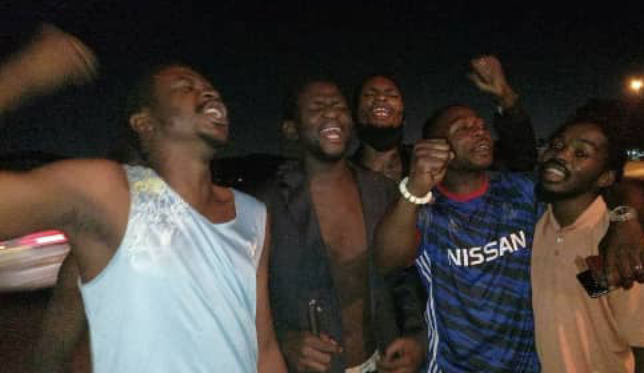 General News
News
At last, DSS frees five youths who wear #Buharimustgo T-Shirt to Dunamis church
Five youths who wore #Buharimustgo T-Shirt to Dunamis Church, Abuja, on Sunday, July 4 2021, have regained their freedom.
They were released after their lawyers perfected their bail condition.
It was learnt that the lawsuit in pursuit of justice for the five revolutionaries  will continue at the Federal High Court .
In a statement posted on his Facebook page, Omoyele Sowore, the leader of #RevolutionNow Movement and leading #BuhariMustGo campaigner stated "we want to appreciate everyone who stood firmly by these young men and the #Revolutionnow movement during their unjust incarceration-torture and dehumanisation in the hands of Dr. Paul Enenche's church security before they were handed over to the DSS."
Sowore ,in his statement asserted that  "administrative sanctions will be pursued against the Magistrate that ignored a superior court order ordering their release as well as the three DSS lawyers who flagrantly ignored the higher court orders to arraign them before the Magistrate. Their lawyers will also pursue a contempt of court proceeding against the DG of DSS, Yusuf Bichi Mogaji in coming days."
In a related development,  lead Counsel to the Dunamis 5,  Tope Tomekun Esq in a statement has narrated how  his legal team secured freedom for the youths.