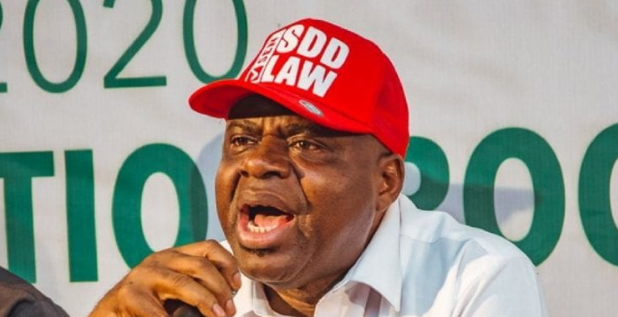 The Bayelsa State Government has disowned a Senior Special Assistant to the Governor on new media, Bodmas Kemepadei, after he was arrested by operatives of the Department of State Services (DSS) for making inciting statements against President Muhammadu Buhari.
The DSS had earlier on Tuesday arrested Kemepadei in Yenogoa.
In response to the development, the Bayelsa State Government disclosed that he was only speaking for himself.
A statement signed by the Director, New Media Bayelsa State Government, Kola Oredipe, said:
"Our attention has been drawn to the arrest of Mr. Bodmas Kemepadei by the Department of State Services (DSS) over alleged inciting posts on the social media against President Muhammadu Buhari. Let it be clear that Kemepadei lacks the authority to speak directly for His Excellency, Senator Douye Diri, Governor of Bayelsa State."
"Kemepadei, a known blogger, film editor and online reporter, was appointed into the Bayelsa State Government New Media Team as a Special Assistant on New Media and works under the direct supervision of the Director, New Media, who coordinates all government new media activities."
"Kemepadei, in the said video and other posts, must have obviously spoken as a private citizen and not as a government official because the Governor could never have authorised such comments against Mr. President."
The DEFENDER reports that some Nigerians, who lauded the DSS over what they described as its new wakeup to action against those hiding under ethnicity or religion to destroy the country and its government, have been talking about the quick dissociation of self by the state government.
One of them said, "This is what is expected also of governments of South East Nigeria. We learned that this ethnic jingoist in Bayelsa government actually threatened to blow off the oil pipelines also. If political elites in South East have been speaking up against the terrorism of Indigenous People of Biafra (IPOB) like the two governors of South South the first being Nyesom Wike have done, their region won't become near theatre of war that it has now become."
-Source: The DEFENDER.