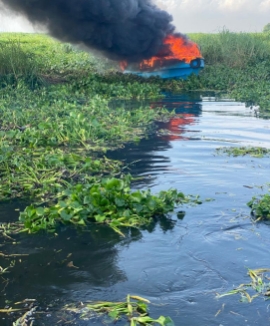 Community
Boat catches fire in Ikorodu 
… water Hyacinth causes another emergency 
…LASWA suspend operations  
CITIZENS COMPASS —The emergency team of Lagos State Waterways Authority (LASWA), has successfully rescued passengers in a commercial boat when the boat suddenly went up in flames on water. 
The incident occurred at about 8.46 a. m., on Thursday, November 9, 2023. 
There was no loss of life or injuries sustained as emergency agencies swift into action and rescued all the passengers. 
According to LASWA management which confirmed this to journalists on Friday, the passenger boat belonging to Oyebola Marine caught fire at the loading point in Ikorodu ferry terminal.
LASWA said the fire incident occurred due to an electrical spark from the boat ignition when the boat Captain and Deckhand were infusing fuel into the boat engine.
"All passengers onboard the boat were rescued alive with the combined efforts of Ikorodu Ferry Terminal Staff, LASWA officials, and several boat operators present at the scene.
" The rescue team was able to put off this inferno using the terminal hall fire extinguishers.
" The affected passengers were attended to by medical personnel at the jetty. Few of the affected passengers were able to continue their journey while several others had to return home.
" Some of the affected passengers are currently assisting LASWA with further information on this unfortunate incident.
" LASWA has also identified some gaps and areas of improvement from all stakeholders including itself to enable such occurrences to be reduced to its barest minimum."
Water Hyacinth causes another emergency   
Meanwhile, clustered water hyacinth on the waterways caused another emergency at Ikorodu  Ferry Terminal, on Friday, November 10, 2023. 
It wss learnt that a LAGFERRY boat – MF Babatunde Fashola, was on Friday, November 10, 2023, was involved in an emergency situation that necessitated the prompt rescue of all passengers, at about 120p.m to Ipakodo Terminal. 
According to LASWA, in a statement, "This development was observed from our E-Fleet Surveillance System at Mile 2 Terminal and distress calls were made to LASWA, NIWA and Private Boat Operators.
" LASWA, Private Boat Operators and LAGFERRY immediately deployed their rescue teams but the rescue efforts were a bit difficult due to the menace of water hyacinth. 
" The boat was sailed by an experienced Captain Pitt who instructed all the passengers to abide with safety protocols while expecting the rescue team. 
" All the passengers were rescued and received at the Ipakodo Terminal, Ikorodu. 
"The circumstances surrounding the incident are being investigated and a detailed statement will be made public in due course. 
" Meanwhile, we have suspended operations from Ipakodo Terminal, Ikorodu, with immediate effect till further notice. 
"We continue to appeal for your understanding at this trying period while soliciting for your utmost cooperation for a safer and sustainable water transportation system in Lagos State." 
The Agency said ckearing of water hyacinth on its waterways has commenced.