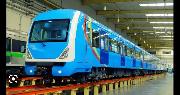 CITIZENS COMPASS– President Muhammadu Buhari on Tuesday, inaugurated the John Randle Centre for Yoruba Culture and History, in Lagos.
Buhari was accompanied by his host, Lagos State Governor, Bababjide Sanwo-Olu.
The centre is a project that fits into urban regeneration project at the heart of Lagos Island.
President Muhammadu Buhari also unveiled the iconic first phase of the Lagos Blue Line Rail project completed by the administration of Governor Babajide Sanwo-Olu.
The first phase of the Blue Line Rail project runs from Marina to Mile 2.
Sanwo-Olu had on 21st December announced the Lagos Rail Mass Transit Blue Line, phase one completion from Marina to Mile two, ahead the official unveiling by the President and commencement of commercial operations.
Buhari arrived the venue at about 11:25am, rode in the Blue Line Rail accompanied by Governor Sanwo-Olu, other top government functionaries from Marina to Mile 2.
Sanwo-Olu, who acknowledged the visionary role of the former Governor of the state and Presidential Candidate of the All Progressives Congress, APC, Bola Tinubu as the designer of new Lagos, described the milestone in the development of the Lagos Rail Mass Transit as the culmination of several impactful reforms in the transport ecosystem of Lagos State, starting in 1999.