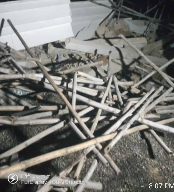 CITIZENS COMPASS– HENCEFORTH, artisans who are found rendering services on unapproved buildings will be arrested and prosecuted by Lagos State Government.
General Manager of Lagos State Building Control Agency (LASBCA),  Arc. Gbolahan Oki, who disclosed this in Ikeja, said this was provided in LASBCA's building control laws.
He was speaking, at Day Two of the agency in-house training.
The General Manager said the move was aimed at tackling  incessant building collapse in the state.
The training was themed: "Repositioning LASBCA for better service delivery."
He stressed the need for bricklayers, plumbers, welders and carpenters to abide by the dictates of the building law and ensure that building collapse is a thing of the past in Lagos.
Oki urged all stakeholders to work for the quality of construction in the built environment.
He lamented that building collapses often occurred  due to negligence on the part of professionals, who abandoned their supervisory roles to  the artisans because they have jobs in other sites.
The LASBCA boss said the theme of the workshop indicates a desire to not only ensure that their services are topnotch. in terms of delivery and interactions with members of the public, but to also achieve the purpose for which the agency was created
This, he said, include: building control in all its ramification, granting of approval to commence construction, inspection of various stages of building construction, verification of general contractors' all risk and building insurance policy, issuance of certificate of completion and fitness for habitation and identification, and removal of distressed and non-conforming buildings.
He said: " Let us work together. When you see some thing, say something. Many lives have gone and we cannot get them back. Any building demolished can be replaced but we cannot replace lives. We need support from artisans and developers. We expect to hear how you think, we should  do better and we will tell you what the law says.
 " Now our law is going to be enforced in totality. Any artisan found in an unapproved sites  will be arrested.  Before that, there will be warnings and discussions, but we need your cooperation."