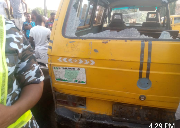 Transportation
Car owner crushed to death as bus driver drives against traffic in Lagos
...LASTMA hands over corpse
CITIZENS COMPASS– A yet-to-be identified car owner was reportedly crushed to death as a commercial bus  driver recklessly doive against traffic in Meiran area of Lagos.
The incidennt occurred in the morning on Thursday, March 9, 2023.
Spokesperson, Lagos State Traffic Management Authority (LASTMA), Adebayo Taofeek who confirmed the incident in his updates said the Volkswagen commercial bus driver with number plate, EPE 964XX while driving against traffic on high speed collided with a private car (Honda Civic EPE 666 BC).
He quoted LASTMA (Bravo) Ajanlekoko Anthony who said the incident occurred at about 9:30am leading to the driver of the Honda Civic car to sustain serious neck injury and died instantly.
"It was confirmed that the deceased was living inside Meiran Estate which is very close to the scene of the accident.
LASTMA officials who were first emergency responders handed over the corpse to his relatives who came out from the estate.
"Both vehicles were immediately removed from the road to pave way for free vehicular movement to other road users.
"While the driver of the Volkswagen commercial bus that took one-way ran away, vehicles were handed over to Police men from Meiran Police Station.
"The General Manager Mr Bolaji Oreagba however warned motorists (private/commercial) to desist from disobeying traffic laws particularly driving against traffic (one-way).
"According to the General Manager "driving against traffic (One-way) is awaiting dead trap on roads"