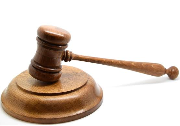 General News
Court dissolves pastor's marriage over threat to life 
CITIZENS COMPASS – A Customary Court sitting in An Ado-Ekiti has dissolved a 3-year-old marriage between a pastor, Oni Muyiwa and his wife, Alabi Adejoke over domestic violence and threats to life.
Muyiwa, a pastor at a new generation churche and a health worker, is known to be a perennial divorcee who manipulates women's wealth to his advantage.
The President of the Court, Mr. J.O Oyedele, ordered that both parties go their separate ways without disturbance. 
" The respondent is hereby restrained from going to the petitioner's house after he might have taken all his belongings out of the house.
"The custody of the only child of the association is hereby awarded to the petitioner and the respondent shall have access to the child.
"The court hereby ordered that the Toyota Camry car under the custody of the respondent is to be collected immediately and same given to the petitioner.
Ajejoke had approached the court through her counsel, Iyanu Olumuagun on October 11, 2022 seeking dissolution of the marriage, and that the respondent be ordered to leave her house and return all her properties.
During a cross-examination, it was discovered that the respondent cannot be trusted and whose testimonies were full of lies.
" All the answers given by the respondent reveaked he is a liar and his evidence cannot be relied on: why could the respondent deny knowing a woman who gave birth to his first son, known as Oni Samuel Okikiola? Why will he also deny knowing Modupe, his first wife?" The court said.
However, the defendant said the petitioner did not have any car but he acquired the car while cohabiting with her.
The defendant informed the court that it was not true that only the petitioner was responsible for education and the welfare of the child.