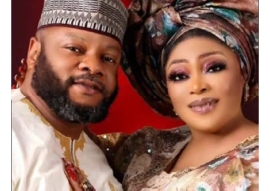 General News
Lady who attempted to jump into Lagos lagoon was married when our relationship started —Husband 
CITIZENS COMPASS—Demola Odulaja, the estranged husband of the Chief Executive Officer of House of Phreedah Body Care, Farida Abdulkabir popularly known as Farida Sobowale, has said that both started their relationship while she was still married to her former husband, Tunde Sobowale.
Odulaja in an interview with a Yoruba social commentator, ArewaTopeFamous, on Tuesday via Instagram Live alleged that the break-up was not unconnected to Sobowale's alleged promiscuity, lies, and covetousness, among others.
It had earlier been reported that Sobowale almost plunged into the lagoon at the Third Mainland Bridge, Lagos after the marriage failed but was restrained by passers-by on Thursday.
Sobowale said she could not endure the fallout of her crashed marriage and this prompted her decision to end her life.
However, Odulaja declared that his association with Farida Sobowale extended over a substantial span of 20 years but had become unstable owing to her "unrestrained and promiscuous way of living."
He also recollected a time when Sobowale engaged in simultaneous intimate relationships with him and multiple other men before they eventually got married.
The London-based entrepreneur further alleged that Farida indiscriminately visited his brother who lived close to them often and even stayed there for hours without justifying her action.