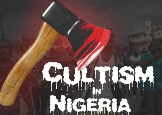 Articles
Cultists rape pastor's wife to death
CITIZENS COMPASS– Some suspected cultists have reportedly gang raped a pastor's wife to death in Rivers State.
The pastor's wife with Seventh Day Adventist Church Abarikpo, identified as Mrs. Chigbewejim Steward, was said to be gang raped in her community, Abarikpo, Ahoada East Local Government Area of the state.
The incident reportedly occurred when the suspected cult members allegedly belonging to the Iceland cult first of all abducted the mother of two in the wee hours of Sunday.
She was thereafter found dead at about 10am in the community with multiple injuries and blood stains in her private parts.
The deceased's husband, Pastor Lawyer Steward, confirmed the incident, to newsmen saying he was informed that a known cultist accused his wife of always gossiping with his name.
Steward stated, "I am the husband of Chigbejim, who was murdered yesterday by a group of boys. After raping her, they murdered her."
Asked if he had problems with anyone prior to the incident, the cleric said he was neither a cultist nor had issues with anyone.
"I am not a cultist; I am an Assistant Pastor in charge of Evangelism in the Seventh Day Adventist Church Abarikpo. Everybody in my community knows I am not a cultist.
"She gave birth to three children, one is late. My daughter is seven, while the little one, a boy, is three years' old.
One boy, Sunday, a cultist, claimed he slaughtered my wife because she gossiped and spoke against him. That people told him my wife always spoke against him.
"That is the reason he murdered her. He is a cultist," said the distraught man. He revealed that the Ahoada Divisional Police Officer visited the scene on Sunday evening.
Steward called on the law enforcement agencies and the government to apprehend the perpetrators and make them to face justice.
"I am calling on the government to help me find those boys that kidnapped my wife, raped and murdered her.
"Let the government and the police help to arrest them and make them pay for what they did to my wife," the cleric stated.
Speaking, the Public Relations Officer of Igbu Akoh Clan Youth Congress, Ahoada East LGA, Ekeakita Chinem, also confirmed the incident, saying the community had been experiencing a series of killings in recent times.
So, like we have been having a series of killings in Akoh. When they kill, nobody goes after the bad boys. No security person goes after the bad boys.
"Mrs Steward was kidnapped around 1am. Only for us to find out around 10am this morning that she was lifeless after being raped.
"She had bruises in her private parts, especially on her thighs. There was blood all over her body too.
"So, people are living in fear, nervous that no political leader or government agency goes after them. You report or don't report, what will happen," he said.
Asked if the matter was cult-related, Chinem answered in the negative, saying she was a married woman.
He recalled, " Late last year, we witnessed 11 killings in that community. A member of one of the cult groups went to their camp and collected an AK-47 rifle belonging to their master and ran away to their community at Abarikpo.
"However, the cult leader sent his boys after him and about 11 persons were killed.
" Till date, there is no investigation and no action was taken by the police to fish out the perpetrators from where they are hiding. Nothing at all."
Meanwhile, a group, the Centre for Basic Rights Protection and Accountability Campaign, has condemned the incident
The group spoke through its National Coordinator, Prince Wiro who called on the police to carry out proper investigation with a view to apprehending the culprits and making them face justice.
He said, "It is important that the police get to work. They must carry out a thorough investigation to ensure that the culprits are arrested so that the woman gets justice."
At press time, spokesperson for Rivers State police command, Grace Iringe-Koko,, could not be reached.