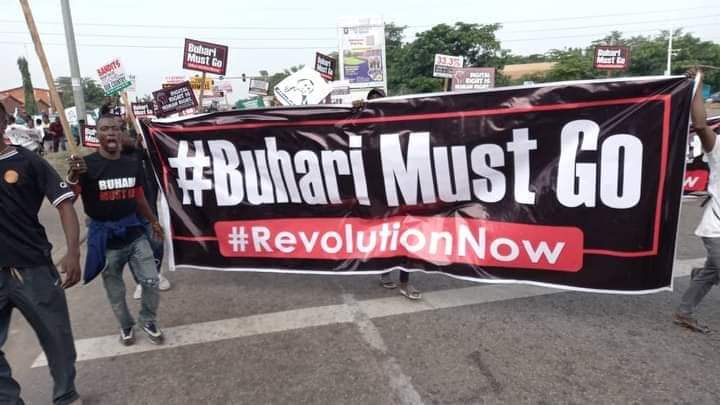 General News
News
Democracy Day: Heavy security presence as protests cripple Lagos, Abuja, others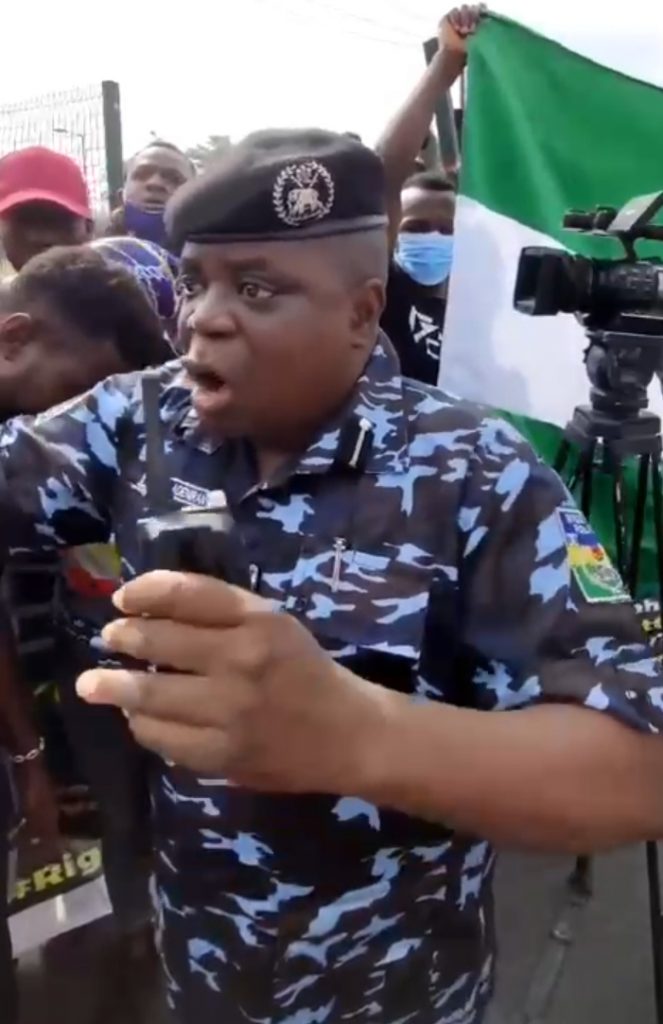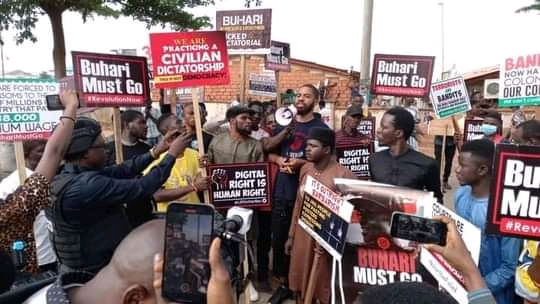 Despite heavy security presence in some parts of Nigeria, Pro-Democracy Groups on weekend, converged on various designated points to carry out their proposed protests slated for June 12, 2021.
The protests were to commemorate the Democracy Day celebration especially in the South-West part of Nigeria.
In Lagos, there was heavy presence of Policemen around Gani Fawehinmi Park, Ojota, in the early hours before the arrival of protesters, yet, they were beaten to it as pockets of protests were recorded around the park until the Police fired canisters to disperse the protesters at about 9am.
About three Hilux vehicles and two armoured tanks were seen at the venue.
It was gathered that some protesters including journalists were arrested by the Police but we're later released.
The Area Commander of Area H, ACP Tunde Adediran and Commander, Rapid Response Squad (RRS), Olayinka Egbeyemi, were seen displaying
high levels of professionalism by addressing some of the protesters peacefully.
However, the after effects of the canisters made the protesters to migrate to other areas like Ketu, Maryland, Lekki Toll Plaza and various streets in Lagos.
Despite the heavy presence of 1security operatives at the park, the protesters displayed placards with various inscriptions like, "Buhari must go", "Revert electricity tariff now", "End Bad Government".
Simultaneously, the same protests took place at Gudu, Federal Capital Territory.(FCT), Abuja which was supposed to take place at Unity Fountain.
The Anti-Buhari protesters in Abuja were said to be led by the Publisher of Sahara Reporters, Omowole Sowore.
The protests witnessed large turnout as people were seen carrying placards and banners with various inscriptions.
They demanded the resignation of President Muhammadu Buhari asking that he resigns from office as soon as possible.
They claimed that he has failed in addressing Nigerian issues particularlly security.
The protests were later disrupted by the sudden emergence of Police who started shooting canisters.
As this was ongoing, a Pro-Buhari group was noticed at Unity Fountain, praising Mr. President for his good governance.
They were later seen in heated argumant over sharing of money and other proceeds from the protests..
Prootests also took place in Abeokuta, Ibadan, Oshogbo, Akure and some other states in the country.
Some state governors have since delivered some Democracy Day speeches.
Late Moshood Olawale Kashimawo (MKO) Abiola, the presumed winner of June 12, 1993 elections was arrested in 1994 on treason charges after declaring himself President.
The late business mogul died on 7 July 1998, the day he was due to be released from detention.
June 12 was formerly known as Abiola Day, celebrated in Lagos, Nigeria and some south western states of Nigeria.
Co-Conveners, New Nigeria Network Secretariat, Barrister Adesina Ogunlana,
Juwon Sanyaolu and Ayo Ademiluyi have since condemned the distruptiom of the protests.
They said about 20 protesters were arrested at the Freedom Park, Ojota.