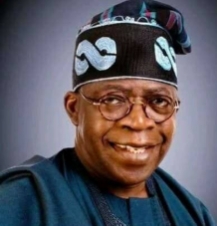 Politics
Details emerge on Tinubu's health status
CITIZENS COMPASS – FRESH updates emerged yesterday about the health status of the President – elect, Bola Tinubu as Chief Whip, Senator Orji Uzor Kalu, has said that he is not on sick bed.
Speaking during the celebration of Mass to mark his 63rd birthday in Abuja, presided over by the Metropolitan Catholic Archbishop of Abuja, Ignatius Kaigama, Kalu said:
Our President-elect is not sick. It is not true that he's sick. I don't want to say much. He is in good health; he is himself."
Recalling a conversation that ensued between him and his colleague in the Senate regarding the President-elect's health, Kalu said: "One of my colleagues said yesterday he heard that the President-elect, Tinubu, was in the hospital.
" I told him the incoming president was not in the hospital; it is not true that he is in hospital. We argued.
" He is a senior member of the Senate and my former colleague as governor, but of another party. He disagreed with me in my house yesterday. I told him the President-elect was okay."
Kalu said Tinubu would be arriving Nigeria before the end of the month, saying
He is in good health. He is just resting and taking his time to be able to plan his government because there is a lot of task to be done.
" We have a lot of problems on our hands. We have problem of economy; we have problem of disagreement, people-by-people; we have the problem of security which is awesome. We need to tackle it as soon as possible."
Earlier, Kalu said the focus of All Progressives Congress (APC) will be reconciliation, peace and the security of the people of Nigeria. He said: "We need to secure the people of Nigeria; we need to think about the masses; we need to think about the women; we need to think about the society and we need to think about the less privileged. We need to think deeply that people must eat."
On his re-election to the Senate, Kalu said: "I nearly lost an election in my constituency and this is where I had been governor for eight years. It is something I have to talk about. Please pardon me that I have to use it today.
"I won because of goodwill, the people and BVAS. I didn't do anything extraordinary on election day. I was in my house; there was no money to give to anybody. I had no agents in the polling units because there was no money to pay agents. It was just the grace of God. 
" Senator Abaribe is here. It is the same fate he faced. What gave us victory, both of us, were the people and the BVAS."