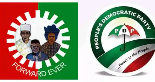 Politics
Labour Party, PDP elders in talks to unseat Sanwo-Olu
CITIZENS COMPASS- BUOYED by the outcome of last Saturday's presidential election in Lagos where the Labour Party (LP) defeated the ruling All Progressives Congress (APC), there is an ongoing move by the Peoples Democratic Party (PDP) and Labour Party (LP) to form an alliance, multiple sources confirmed to Daily Trust yesterday.
The meeting is being spearheaded by some elders of the parties in a bid to form a formidable alliance against the ruling party ahead of the March 11 governorship election.
Sources said there is a hurdle to be crossed as the discussion continues. The hurdle has to do with who steps down between the two candidates- Abdul-Azeez Olajide Adediran popularly known as Jandor of the PDP and Gbadebo Rhodes-Vivour of the LP.
The LP is said to be banking on the success recorded in last Saturday's election to claim superiority in the alliance talks.
Daily Trust reports that already, there is an existing personality clash between Jandor and Rhodes-Vivour who was in the PDP in Lagos before defecting to Labour Party.
Prior to Jandor's emergence as the PDP candidate, Rhodes-Vivour had stepped down for him with the hope of emerging as his running mate. But Jandor went for the ace Nollywood actress, Ms Funke Akindele, which irked Rhodes-Vivour who subsequently jumped ship to LP to pick the governorship ticket.