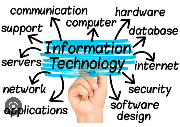 By Abimbola Joseph, LASOS
CITIZENS COMPASS– An expert in the field of Information and Communication Technology(ICT), Mr Sam Adesoga, on Monday, urged organisations and business owners to embrace digital technology and capacity building to enhance growth and image of their businesses.
Adesoga, Principal coach, Valuehut limited, gave the advise in an interview with Citizenscompass in Lagos.
Adesoga said it is necessary to develope and strengthening the skills, instincts, abilities, processes and resources that organisations needed to survive and thrive in a fast-changing world of technology.
According to him, capacity building and technology with innovation would provide opportunities for organisations and young entrepreneurs to develop skills not only to grow their businesses but to also solve problems and positively impact the society.
"It is important to note that technology is a key driver of any country's economy, it plays a significant role in solving many developmental challenges facing businesses and countries.
"Training is also necessary as many innovations have been affected by distruptive technology.
"For us in valuehut, a lot of our work has gone beyond the tech to entire organisation, integrating business and technology as one unit.
"It means organisations need to engage their employee in training and retraining for sustainability, growth and to make profit, " he said.
Adesoga, advised business owners to tap into the potentials of technology and move with new trend in it to enhance success and improvement in their businesses.
He appealed to young entrepreneurs to explore technology and capacity building to be abreast with new innovations as key drivers in their businesses legitimately.
"Nigeria have only explore 1 per cent in the potential of technology but there is an opportunity to improve if more people are involve.
"Youths entrepreneurs can make significant progress in their business through technology if fully tapped legitimately," he said.
Adesoga said that trainings and retraining is an important tools in ensuring success in any organisation adding that people with different ideology and techniques can also team up to transform their businesses as part of training offered by Valuehut Limited to organisations.
"Training is a veritable tools to set standard and to compete globally among industries.
"In Valuehut, we train people and organisations to compete favourable among the industry savvy.
"We help organisation to transform into a network of interdependent teams.
"The leaders creating and environment where the teams can thrive as agile and we do that through a combination of training and coaching.
"We train organisations team leaders using some agile frame work such as Crumbs and coaching, we take lessons learned from training into organisation and apply it to their context," he said