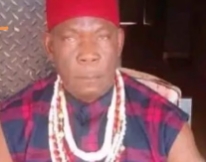 Community
Eze Igbo of Isolo is APC member – Neighbours
....DSS, Police search Palace
CITIZENS COMPASS – SOME neighbours of the embattled Eze Ndigbo of Ajao Estate, Lagos State Frederick Nwajagu have revealed that he is a staunch member of All Progressives Congress (APC) in the state.
He was said to have participated in all APC activities to ensure the party's victory in the state.
This was disclosed on Monday, April 3, 2023 in separate interviews by our Correspondent.
Despite the verbal threats against Igbos before, during and after the the 2023 elections, Nwajagu,I was said to have pitched his tent with his party against many of his kinsmen.
However, he was moved by the ordeal of his people whose means of livelihood were razed when fire consumed some Lagos markets dominant by Igbos.
Few days back, Eze Igbo of Isolo released a 49 seconds video threatening to invite the Indigenous People of Biafra (IPOB) to Lagos to secure Igbo traders.
The video was said to have generated reactions by security operatives who immediately stormed his residence to arrest him but was said to have escaped to a hotel where he was later picked up and handed over to the Department of State Services (DSS).
Heavily armed policemen and DSS officials yesterday, stormed his residence Ajao Estate, for the second time, after the arrest on Friday, March 31, 2023.
Eyewitnesses said the policemen and DSS officials took him to State Criminal Investigations and Intelligence Department, SCIID, Panti, Yaba, where he was transferred to and detained since his arrest. .
They reportedly stormed his residence with two white pickups Hilux vans and heavily armed policemen for a search.
It was gathered that they conducted thorough searches that lasted over four hours before going back to SCIID, Panti.
Eyewitnesses said Nwajagu, who was handcuffed led the policemen and DSS officials into his palace. It was learned that the security men left his palace without any visible incriminating evidence.
A source said plans to either fly him to Abuja or take him to court after conducting a thorough search in his palace was hastily changed, following the inability of detectives to uncover any incriminating evidence in his house, yesterday.
"We have plans of even rounding up all the members of his cabinet in Ajoa Estate and anybody remotely or otherwise, connected with the volatile and provocative statement he made but it will depend on the outcome of our subsequent investigation," the source said.
However, according to sources, investigations would continue while he remains in detention at the SCIID, Panti, Yaba, Lagos to ascertain whether his threat was real, deeply founded or a fluke, especially, when the Federal Government had proscribed IPOB while they still continue to operate in the South-East.
When Vanguard visited the palace of the Igbo leader, few minutes after the policemen left, neighbours that refused to be quoted expressed shock that the Igbo leader would be arrested after making the statement.
They revealed that he was not only a staunch member of the ruling All Progressives Congress, APC, but did nothing to help his people, during the elections while they were being threatened by hoodlums and thugs.
–Vanguard.