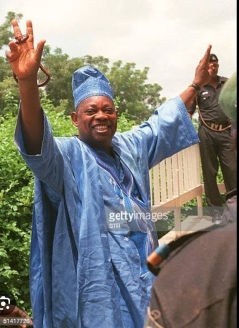 Politics
Family demands 'presidential entitlements' for Abiola
CITIZENS COMPASS – THE family of the acclaimed winner of the June 12, 1993 presidential election, the late MKO Abiola, has urged the President Bola Tinubu-led Federal Government to pay all the incentives due to the family.
The family made the call through its secretary and one of Abiola's children, Ameen, while addressing newsmen during a prayer session held at the MKO Abiola family House, Gbagura, Abeokuta, Ogun State, on Monday, June 12, 2023. 
The family secretary said beyond payment of the entitlements, the family wished that the government implement most of the people-oriented policies which Abiola promised Nigerians while alive.
The military junta of General Ibrahim Babangida had annulled the June 12, 1993 presidential election, which is widely believed to have been won by the late MKO.
However, former President Muhammadu Buhari, in 2018, formally conferred on Abiola the national honour of the Grand Commander of the Federal Republic, reserved for Presidents.
Ameen, while speaking with journalists, called on the current President to pay the family presidential entitlements due to Abiola.
He said "I believe that this government has the capacity to be able to ensure that all incentives that are due to the Abiola family get to the Abiola family. 
"So, I believe this government would do everything it takes to make sure that all that we ought to have got from previous government would get to us."
" Ogun State Governor, Dapo Abiodun, noted that 30 years after the June 12 election, it was important to continue to reiterate the role played by the late Abiola in fighting for democracy.
Abiodun, represented by his Deputy Governor, Mrs Noimot Salako-Oyedele, said  that Abiola lived a good life worthy of emulation.
"He lived a good life we should learn from. We should learn from his good deeds. He always followed the tenets of God in all his activities," he said.
The governor called on Nigerians to continue to pray and support the Tinubu administration.
Also speaking at a rally held  in celebration of June 12 at the MKO Abiola Stadium, Abeokuta, Abiodun urged Nigerians to give Tinubu maximum support. 
He said, "It is gratifying that one of the dependable, loyal, dogged and hardened proponents of the June 12 struggle,  Bola Tinubu, is today the President of Nigeria. 
"Some of the recent policies, like the subsidy removal, may come out with some initial inconvenience, but we must persevere as the benefit far outweighs whatever it is we are sacrificing.
"As we move on in our democratic journey, it is important for us to continue to be patriotic in all our daily activities."
–The PUNCH