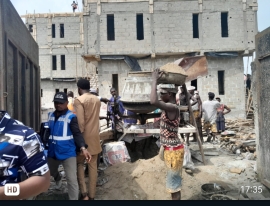 Community
Federal Housing Authority to resume demolition of illegal structures in Festac
... Decries land grabbing activities
By Bose Adelaja
CITIZENS COMPASS —The Federal Housing Authority (FHA), South West Zone has disclosed plans to resume demolition of illegal structures in Festac Town area of Lagos State, especially at Phase 2.
The FHA said some of the structures have earlier been marked for demolition as their owners have contravened safety rules.
This was disclosed on Friday, November 17, 2023 during a press conference organised by the zone in Lagos. According to the zonal representatives, Zonal Managing Director of the Zone, Arch. Hakeem Olugbenro, Deputy General Manager, Urban and Regional Planning, Town Planner Francesca Michael-James and Surv. Lawal Umar-Salihu, lamented gross violation of government rules among home owners in the Town.
According to them, land grabbing activities have grossly constituted to the menace of illegal structures being witnessed in Festac Town and the federal Government is ready to checkmate this.
Some land speculators and land grabbers with their illegal structures have tampered with the original masterplan of Festac and this may adversely affect the environment in terms of flooding and other aspects detrimental to the wellbeing of Festac people.
The representatives promised that demolition of illegal structures will resume in earnest as notices have been served since August 2023.
Addressing the press conference, Zonal Manager, South West, Arch. Akintola Olugbenro said access to the affected area has been cumbersome because of encroachment and illegal development.
He said, "After so many years getting access to the property belonging to the Federal Housing authority (FHA) in Festac Town has been cumbersome especially in terms of encroachment, and illegal development.
"This has become so wide, and is turning the whole place into a slum, to be candid, FHA does not build slums like we are being tagged.
Festac is a typical example and whatever structure is erected there is because people have taken laws into their hands but we are trying our best to ensure things go the way they are supposed to.
"A lot of illegalities has taken place in that place and we are trying to see how best we can fix this to enable people live in a more serene environment unfortunately, we have so many unprofessional estate developers and illegal property dealers who have defaced the environment."
Corroborating his colleague, Deputy General Manager, South West Zone, Town Planner Francesca Michael-James, lamented government's efforts in restoring normalcy to the area, saying, "We are trying to have a sustainable environment and give people a livable town. Festac is swampy by nature and why it was developed in phases was reduced to the costs of reclaiming it. For instance, the Phase 1 and part of Phase 2 were sand-filled. Our role is to provide housing for people in order to enhance their lives be it in terms of commercial or private.
"From the second phase towards Abule-Ado, the sandfilling and road levelling were done and we have to continue from there because FHA has a masterplan for the whole landed property, which was done in the 70s before the commencement of Festac Town.
Distortion of Master Plan
"What we have noticed in Festac Town recently is haphazard development and distortion of the Master Plan. However, the activities of land speculators and land grabbers have disrupted the plans especially in terms of drainages and canals.
"In the master Plan, we have the major artilleries, collector and minor roads, for example, the standard of the Right of Way is about 50 width which was observed by occupants of the 1st to fifth avenues but at several other places in the Town, what we have is distortion of the Master Plan and sandfilling or road levelling is no longer in place.
The access roads that are usually 15 metres have been reduced while sandfilling or road levelling is no longer taking into cognisance.
''We started demolition of illegal structure last year but there was public outcry and in response to this, we halted the demolition and convened a stakeholders meeting to address the outcry.
"In furtherance, we embarked on a study of the area by flying a drone to the areas under Federal Government acquisition after which we asked the stakeholders to halt existing construction work in order to redesign the place and minimize the effects on people.
To our dismay, people have continued working on the land thinking there is an avenue for regularization forgetting that this is not automatic.
Also speaking, Assistant General Manager, South West, Surv. Lawal Umar-Salihu, out of the 2000 x 24.64 hectares of land allocated for the Festac Town development, only about 30 per cent had been allocated by the government while the remaining 70 per cent had been encroached upon.
According to him, "What we have as Festac was 2000 x 24.64 hectares in size and we were able to develop Phase which was about 530 hectares and that was about 30 per cent of the entire place, the remaining Phase 2 of 70 per cent has been encroached upon."
During a tour of Festac Town up to the Abule-Ado area, a lot of abnormalities were observed by our correspondent ranging from reduction in size of roads, blockage of drainages and canals and other fl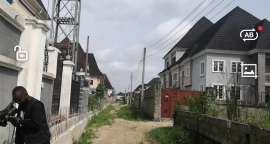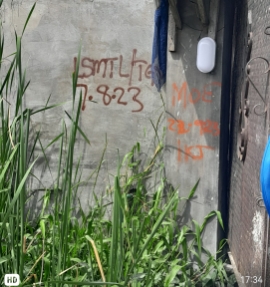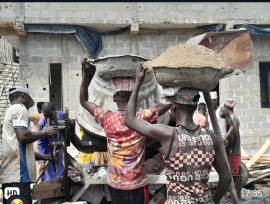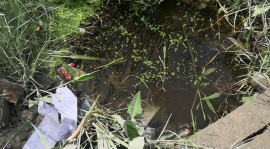 flagrant disobedience to property laws as construction work was ongoing at the site.
Speaking during the tour of the area, several buildings including worship centres and private companies have been marked for demolition.
However, the Deputy General Manager for the zone said the Federal Government will not fold its arms and allow things to degenerate.