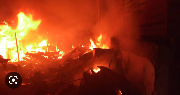 CITIZENS COMPASS – FIRE outbreak on Sunday, May 14, 2023, gutted popular Agbeni market in Ibadan, Oyo State. 
This was at about 04:30am.
The state General Manager of Fire Services, Yemi Akinyemi, confirmed the incident to our correspondent in a telephone conversation. 
He said, "The agency received the distress call at exactly 04:37hrs through Sunday Ogundele, Access Bank security that Agbeni market is on fire.
"Our men are still battling with the job, we are grateful to Central Bank of Nigeria that allows us to use their water supply. Everything is under control. They are still going to CBN to replenish", he confirmed.
The market is one of the biggest fabric markets in Nigeria.