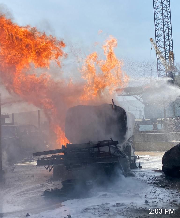 CITIZENS COMPASS–  A section of the newly commissioned Blue Rail Mass Transit Line in Marina, Lagos was reportedly engulfed in flames on Tuesday, February 25, 2023.
The inferno was said to be recorded through a gas tanker which caught fire due to the sparks from a generating set within the yard of the Blue Rail Mass Transit line.
According to eyewitnesses, the fire outbreak started at about 2 p.m.spread rapidly through the station, causing extensive damage to the generating set used in the facility.
It was learnt that the incident caused panic as workers and commuters, reportedly scampered for safety.
Many of them cc misconstrued the fire incident for an explosion and this heightened their fears.
Lagos State Fire Service, Lagos State Emergency Management Agency (LASEMA), the Nigeria Police and other emergency responders were able to curtail the fire from spreading to other parts of the facility.
However, Lagos State Police Public Relations Officer (PPRO) SP Benjamin Hundeyin, said there was no need to panic as emergency responders including the police and fire service were on the ground trying to put out the fire.
According to Hundeyin, "the fire at Marina started from the generator of the Blue Rail Mass Transit. Police patrol teams and the fire service are already on the ground to control the crowd and put out the fire respectively.
"People are urged to go about their lawful duties and not panic as the situation is under control."
In his situation report, LASEMA Permanent Secretary, Dr Olufemi Oke-Osanyintolu said, "The Agency responded to the above incident in which a gas tanker caught fire due the sparks from a generator within the yard of the Blue Rail Mass Transit line.
The combined efforts of the Lagos State Fire service and National Ports authority (NPA) fire service and agency responders have controlled the situation with no risk of secondary incidents."
The Blue Rail Mass Transit was recently commissioned by President Mihammadu Buhari.