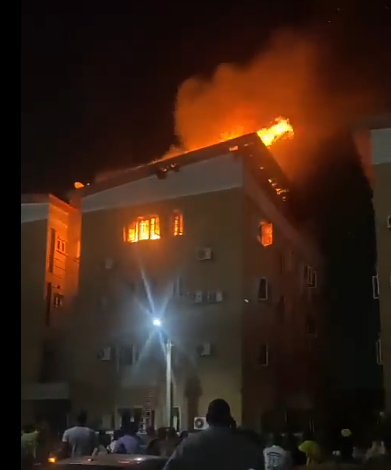 FIRE outbreak on Tuesday, gutted a three-storey building located at Anthony Enahoro Estate, Sogunro, Ogba area of Lagos State.
No life was lost to the incident which  reportedly occurred in the morning though the cause could not be ascertained at press time.
Eyewitnesses' account said the inferno affected a room and palour apartment on the top floor of the building but it was contained through the efforts of Lagos State |Fire and Rescue Service and other relevant agencies.
The eye wiriness who pleaded anonymity said some personal effects, furniture and house use were destroyed by the fire.
A video however went viral that the building is owned by the Lagos State Development and Property Corporation LSDPC, but this could not be established at press time.
Confirming the incident, the Director, Lagos State Fire and Rescue Service, Adeseye Margaret said the Ikeja Fire station of the agency responded promptly to the incident. She said, ''The fire affected a room and palour in that building but Our Ikeja fire station responded to the incident and prevented it from escalating. However However, we don't know if the building belongs to LSDPC.''
She said there were no injuries or loss of life.