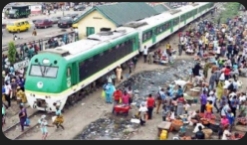 CITIZENS COMPASS —The Nigerian Railway Corporation (NRC) has suspended some of its workers for collecting cash from passengers rather than issuing tickets for them.
The workers were captured in a viral video during the ttansaction. 
The passengers claimed the transaction took place onboard a Lagos-Ibadan standard gauge train.
In a statement signed yesterday, by the Corporations Deputy Director, Public Relations, Yakub Mahmood, the Corporation condemned the actions of the workers, stating that it is a flagrant disobedience of laid down rules guiding the operations of the NRC.
According to the statement, "Following a viral video that has been trending on various social media platforms, vividly showing Railway workers negotiating with our esteemed passengers onboard Lagos-Ibadan Train Service (LITS) to pay without obtaining official boarding tickets, the general public is invited to note that the NRC seriously condemns such acts of misconduct which is a flagrant disobedience to laid down rules and utter betrayal of the confidence reposed on such workers, especially at this time that the Federal Government is making all efforts to revitalizing and modernizing the Corporation.
"This misconduct is regrettable and unacceptable as it negates the tenets and norms of the Corporation. The Corporation has therefore placed the identified erring officers on immediate suspension pending the outcome of the in-depth investigation already ongoing by the Management Committee set up to look into the issue.
"Our esteemed passengers and the general public are assured that this unwholesome attitude and image dent to the Corporation by any staff will not be tolerated nor treated with any levity. Accordingly, disciplinary proceedings in line with the extant rules citing relevant sections of the NRC General Rules and Public Service Rules (PSR) will definitely be visited on all those found wanting or connected to this irresponsible act.
"The Management of the NRC wishes to use this medium to enjoin all our intending passengers on LITS and other train corridors to insist and demand for boarding tickets after making appropriate payment at the designated stations or book online appropriately.
"Please note that the electronic ticketing system is being deployed and will be available on both the Lagos-Ibadan Train Service and the Warri-Itakpe Train Service (WITS) by end of October 2023.
Some of the passengers had circulated series of messages to alert members of the public aboit the development and thids had generates reactions from various quaters. 
Some of the messages read, "On my way to Lagos from Ibadan today, some NRC employees lured us to board the train without tickets. Initially, they acted like they were taking us to the ticket counter only for them to lead us to the Railway without official ticket.
They collected cash on transit."
Another of the messages reads was shared by an X user (Formerly Twitter) 
Daramola E. Adenike on his page, @Dara4Enjoyment on X on Monday, 
October 2, 2023 which reads," On 02nd October 2023, my friends and I were going back to Lagos after a weekend getaway in Ibadan.
"We arrived at the Train Station around 03:40pm. While we were walking to the entrance of Obafemi Awolowo Train Station Ibadan, a uniformed NRC official approached us.
" He asked if we have tickets, and I told him we were on our way to get tickets. He then asked how many of us, and I told him that we are five (5).
" He told us to follow him. We were confident we could trust him because he was wearing a uniform and identified as a staff.
" My friends and I followed him thinking he was leading us to the ticket counter only for us to pass through screening and head towards the Railway.
" I immediately told him that we do not have tickets to board the train but he said I shouldn't worry that it would be sorted.
" He handed me over to another uniformed staff who lead us to Coach 7. I told the lady the same thing that we do not have tickets and she said she was aware and it would be sorted.
" I was so uncomfortable and unsettled so I asked two other persons if they had tickets.
" I discovered every single person onboard coach 7 had no ticket and were lured in the same way.
"At this time, I realized what was happening and became more uncomfortable.
" I was about to step out to look for the ticket counter when I saw that the time. It was 3:55pm.
"While pacing and looking for a staff, I saw new people come into the train and I approached one of them. I asked him if he has a ticket and he said yes. I asked him when he got the ticket and he replied, "Just now"
"This ruled out my assumption that we were too late.
" I saw the uniformed staff that led us into the train and asked him about the tickets. His response was that we are a group of 5 so if we go to the counter to purchase the tickets we would not be able to sit together.
" I was shocked. He couldn't even make something believable up.
" I went back to my seat. I still had my money with me so I would wait and see what happens next.
"Few minutes after the train started moving, they started collecting cash from people on Coach 7
" I paid N18,000 cash for 5 persons
"Over 60 persons paid N3600 each without tickets." 
Another user said, "Very very soon, the new railway will be grounded and some people will turn around to blame the government. Today it is 1 coach, in a couple of months if this is not checked, greed will set in and the gang will be collecting cash on 5 coaches.*