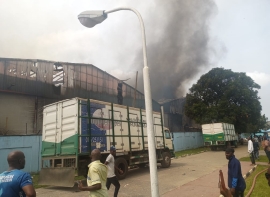 Community
Fire guts warehouse in Lagos
... NEMA cautions Nigerians
CITIZENS COMPASS – A warehouse belonging to Flux Logistics,Company in the Ikeja Area of Lagos State, was on Sunday, April 2, 2023, gutted by fire thereby destroying property which monetary value could not be ascertained.
The company was located on Sapara Street, off Oba Akran Avenue, Ikeja, where fire gutted its warehouse where imported drinks and other items were stored.
The incident occurred at about 08:58am
Lagos State Fire and Rescue Service and other emergency responders have since curtailed it.
It was gathered that no life was lost to the incident which was confirmed by the Director of the Fire service, Adeseye Margaret, the Permanent Secretary, Lagos State Emergency Management Agency (LASEMA) Olufemi Oke-Osanyintolu and the Coordinator, Lagos State Territorial District, National Emergency Management Agency (NEMA), Ibrahim Farinloye.
According to Adeseye, the fire was curtailed by Lagos Fire Crews from Ikeja, Alausa and Bolade and everything was done to ensure the fire did not spread beyond the store.
Ibrahim Farinloye said the fire consumed the whole company which housed imported drinks and few foreign materials.
" A fire outbreak at Flux Logisxis which was said to have started from a warehouse has consumed the whole company which warehouse imported drinks and few foreign materials located at Second Gate busstop, Oba Akran Way, Ikeja.
The fire started at about 0830 hours.
The Berger Paints Fire Service worked assiduously to prevent the fire from spreading to SKG Pharmaceutical Company.
" The Berger Paints mobilised their resources from about 500 metres to carryout the intervention.
" The SKG Pharmaceutical Company Fire Hydrants in their premises which could have assisted greatly but guards on duty could not access or operate the hydrant.
NEMA cautions Nigerians
NEMA has cautioned Nigerians to be careful while handling or storing inflammable items at this season..
" NEMA is hereby urging all Nigerians to be cautious of the delicate season that can lead to immense losses as a result of negligence or unsafe practices.
" The transiting season of dry season to wet season has always being very critical and dangerous in all years due to negligence or unsafe practises.
" The Director of State Fire Service Mrs Adeseye Margaret Abimbola and about 7 fire fighting appliances, 2 LASEMA LRU Appliances and Berger Paints Fire intervention have succeeded to bring the fire under control. "
In his Situation Report,, Osanyintolu said, "Upon arrival at the scene it was discovered that a warehouse owned by Flux logistics company, used for storing Jameson Alcoholic drinks was ablaze.
'The cause of the inferno could not be immediately ascertained but the combined effort to put out the inferno by LRU and Lagos state fire and rescue service has been successful.
" The fire has been curtailed from spreading to adjoining factories under the supervision of the PS Lasema at the scene.
" No injury was recorded at the scene of incident but properties worth millions was damaged by the fire ."
He added that post disaster assessment will be carried out