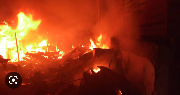 Community
Fire razes 13 shops, warehouses, at spare parts market in Lagos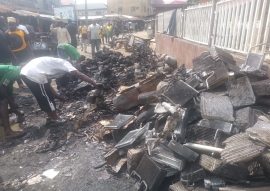 CITIZENS COMPASS – A total number of 13 shops, four warehouses and a restaurant were razed on Thursday, in a fire outbreak which occurred at Olowu Automobile Spare Parts Market in Ikeja area of Lagos.
The inferno occurred in the early hours as scores of traders were counting their losses. on Thursday, March 30, 2023.
Lagos State Fire and Rescue Service was said to have swiftly responded to the incident and prevented it from escalating.
A Twitter user alerted member of the public about the fire incident which attracted emergency responders to the scene.
The post reads, "another mysterious midnight market fire"
The Coordinator, Lagos State Territorial District, National Emergency Management Agency (NEMA), Ibrahim Farinloye who confirmed the incident to Citizens Compass said no life was lost.
He said the cause of the inferno could not be ascertained.
Narrating the incident, the Chairman of the trader asoociation, Bassey Ikpendu, said that one of their apprentices passed the night in the building when he noticed the fire and quickly ran for safety.
He said the fire had engulfed the building before the arrival of fire fighters.
He applauded the fire fighters for prevented the fire from escalating.
Farinloye said, " fire outbreak at Olowu Automobile Spare parts market was recorded early this morning.
" The fire disaster which was reported to have started at about 0230 hours today affected 13 shops, 4 warehouses and one restaurant.
" The Commandant 9th Brigade, Ikeja met the NEMA team while he was on assessment visit to the scene. The cause of the fire can not be determined as at now.
" But the Chairman of the trader asoociation, Bassey Ikpendu while narrating the situation applauded the efforts of the State Fire Service that prevented the escalation of the incident due to the combustible materials that were involved.
" The Chairman narrated that one of their apprentice slept in the building and noticed the fire but by the time he got out, the chairman said, the fire had engulfed the building and immediately fire service was contacted which responded promptly.
" No injury or death was recorded."