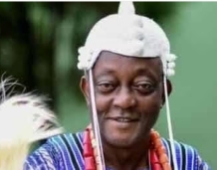 Community
First class monarch joins ancestors 
CITIZENS COMPASS – THE Agura of Gbaguraland, Abeokuta, Ogun State, Alayeluwa, Oba Sabur Babajide Ishola Bakre has joined his ancestors.
According to a palace source, Oba Babajide joins his ancestor on Wednesday, June 14, 2023.
A palace Chief who pleaded anonymity confirmed the passage of Oba Bakre.
Also, the Osi of Egbaland and Balogun of Ibadan Township Gbagura, Abeokuta, confirmed the passage of "His Royal Majesty Oba Dr Saburee Babajide Bakre, Jamolu 11, the Agura of Gbagura. 
In a short notice by Chief Rasaq Adesola Obe, Balogun Ijaye Kukudi, Traditional Council of Chiefs and the Administrative Secretary to the Agura Palace said the Osi of Egbaland mandated him to inform Agura chiefs of the sad incident
Oba Babajide who celebrated his 61st birthday recently was the 9th Agura of Gbagura in Abeokuta
Meanwhile, the Egba Economic Summit (EES) has commiserate with the entire people of Egbaland, over the passing of the Oba Sabur Babajide Bakre, the Agura of Gbagura land.
This was contained in a statement signed by the President of the summit, Chief Shina Luwoye, and made available to newsmen in Abeokuta.
Luwoye, who doubles as the Asiwaju Mayegun of Egbaland, described the late monarch as a unifier and a promoter of peace among all the components of Egbaland and Ogun state in general.
According to him, Oba Bakre lived a graceful and impactful life, just as described his reign as peaceful.
He prayed to God for the repose of his soul, adding that the king will greatly be missed by all.
"What a fulfilling, graceful, impactful and peaceful reign it was for our amiable and respected Agura.
"He is loved by everyone; he carried royalty with grace and honour and he united Egbaland and promoted peace among all the components of this great Egba nation and Ogun State in general.
"May he find grace with his creator. We love him, but God loves him more," the statement read in parts.
Similarly, Ogun State Government, has commiserate with the chiefs and the Gbagura community over the transition of the monarch.