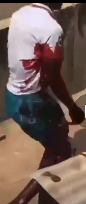 CITIZENS COMPASS- Protesters trooped out in their numbers on Tuesday, in Abeokuta the capital of Ogun State as well as the Benin-Ore-Shagamu Expressway at Ore in Odigbo Local Government Area of Ondo State, to protest against scarcity of Naira and fuel across the country.
The protesters blocked the expressway for hours thereby disrupting free flow of traffic in the axis.
Earlier, the state Commissioner of Police, Mr Oyeyemi Oyediran, in a statement, had warned residents to desist from Organising protests or cause mayhem in the state.
This notwithstanding, protesters trooped out in their numbers to press home their demand.
A youth leader in Ore, Prince Adeyemi Adebayo explained that the protest became imperative in order to checkmate lackadaisical attitudes of the government towards the wellbeing of the suffering masses.
He stated that the crisis on the new naira policy by the Federal Government had been on for three weeks now which has resulted to many aged long queues at the banks nationwide, and government was not doing anything about it.
"This peaceful protest is not aimed at destroying properties nor to take life but it is to express our annoyance to the government of the day that we common Nigerians are suffering. We can no longer withdraw from the banks. We also pay heavy charges at all POS, and many sleep overnight in banks due to naira scarcity.
"Going round all filling stations since three weeks till date you will discover that members of Independent Petroleum Marketers Association of Nigeria are selling the product between N400 and N700. We want government to do something on these issues of general concerned."
Meanwhile, some commercial banks in Akure, the Ondo State capital and some other towns of the state did not open operation on Tuesday for fear of being attacked by protesters.
A banker, on condition of anonymity told our correspondent that the order not to operate came following a security report that there was a plan to attack the banks.
" When I got to the office today (Tuesday), we were asked not to open the bank hall because of unfavourable security report, so that we will not be attacked," he said.
Similarlly, First Bank of Nigeria in Sapon, Abeokuta was set ablaze following protests that broke out over scarcity of Naira notes.
Hundreds of protesters took to the streets in the morning to vent their anger over the scarcity and its resultant effects on them.
Videos circulating on the social media revealed protesters chanting solidarity songs on Aladesanmi, Fajol, and Somorin in the Obantoko area.
Banks and business owners hurriedly closed for the day to avoid the unforseen as the protesters made burnfire in strategic locations including Obantoko and its environs.
Reason for protests
Eye witnesses' accounts said the gatherings were peaceful until the arrival of some police officers who allegedly fired shots to disperse the protesters.
Reports of gunshot
Reports spread rapidly that one person was shot dead during the protests.
An eye witness, Adekunle Olayiwola said some account holders gathered at the First Bank to make withdrawals only for the bank to shut them out and refused to load the Automated Teller Machines (ATM).
"However, people insisted to collect their money and this led to a protest which turned bloody due to the arrival of Policemen.
One of the videos posted online revealed a young man who was shot and was trying to scampered for safety with gun wounds.
He was seriously bleeding while people rallied round him for rescue after he fell into the drainages.
Spokesperson, Ogun State Police Command, Abimbola Adeyemi, said the victim earlier reported dead is alive.
He said protests broke out at Panseke, Asero and Sapon areas.
He disclosed this in a statement, "The young man that was hit by bullet earlier today is still alive. He's presently at Federal Medical Centre (FMC) Idi-Aba, Abeokuta receiving and responding well to treatment.
"According to the Police Public Relations officer, Ogun State Command, SP Abimbola Oyeyemi , the police are investigating if the bullet is actually from the police or not.
Meanwhile, calm has been restored everywhere across Abeokuta, people are now going around peacefully with their businesses."
said the Spokesperson.
The state governor, Dapo Abiodun appealed to traditional rulers to wade into the crises by appealing to residents.