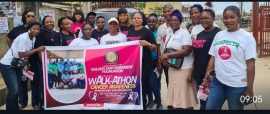 Health
Foundation hail partners on breast cancer awareness programme 
CITIZENS COMPASS —Golden Integrated Empowerment Foundation on Friday, October 27, 2023, gave kudos to its partners, sponsors and volunteers, over their roles towards a successful breast cancer awareness programme recently organised by the Foundation in Ikorodu, Lagos State. 
The Foundation disclosed this through its Founder, Patricia Okosodo, in a statement, made available to Citizens Compass. 
She said the programme with theme, "Keep her in the picture, was to commemorate International Breast Cancer Month which comes up every October. 
Okosodo said," It is with immense gratitude and a heart full of appreciation that we write to express our heartfelt thanks for your invaluable support of our cancer awareness campaign.
" Your generous contributions have played a pivotal role in the success of our campaign. Together, we have been able to reach more people, raise awareness, and provide essential resources to those affected by cancer. Your support has been a beacon of hope and comfort to countless individuals and their families, reminding them that they are not alone in their fight against this formidable adversary.
"Your commitment to making a difference in the fight against cancer is truly remarkable. It goes beyond financial support; it reflects a deep-rooted dedication to the well-being of our community. Your willingness to stand by us in this endeavour encourages us to work even harder to create a cancer-free world.
"The impact of your support resonates far beyond the words of this letter. Lives have been touched, hope has been kindled, and important steps have been taken toward early detection, prevention, and treatment of cancer. Your contribution has been a vital force in this battle.
"We look forward to continuing this journey together and hope that we can count on your support in future endeavours as we strive to make a lasting impact on our society.
" To all our partners, sponsors, and volunteers like NAHCO PLC, Damsy Foundation, National Youth Assembly of Nigeria and all other partners for your unwavering support in the fight against cancer. Your partnership has made all the difference.
"With warm regards and heartfelt appreciation."