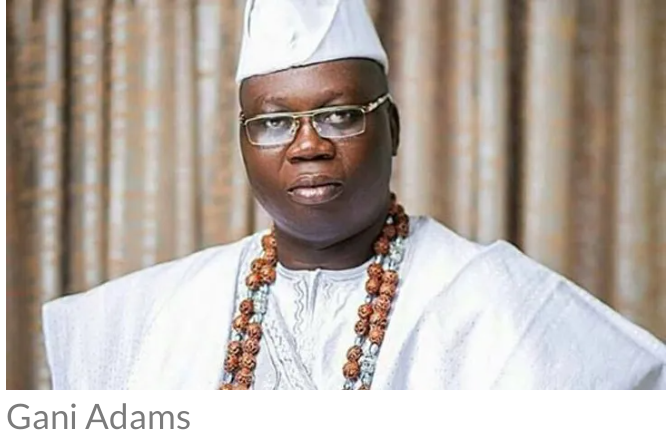 CITIZENS COMPASS- THE Aare Ona Kakanfo of Yorubaland, Gani Adams has advised Nigerians to be security conscious as he alleged plots by terrorists to attack Lagos, Oyo, and Ogun States.
He disclosed this In a statement personally signed by him describing this was caused by a criminal overdose of chronic pain inflicted on the country by the inaction and connivance of those in authority with terrorists and undesirable elements in the polity.
Calling on President Muhammadu Buhari to quickly stop the drift into destruction, Adams said series of serious security breaches in the country in the last few months mean that all is not well with the security architecture of Nigeria.
"On the economic front, it is another sad story. A dollar is now more than N700. This is an administration that met dollar at less than N200 in 2015. Economically, if this is not scary enough, we wonder what is.
"We now have a situation in which family members are being forced to raise N100 million to pay as ransom. The money is delivered to these terrorists to buy more weapons and the government is merely watching.
"After every abduction, the president will summon service chiefs to a meeting, a statement will be issued and that is the end of it. What we will hear next is another abduction or series of kidnapping.
The insecurity situation has reached its peak with the threat by these terrorists to kidnap the president, governors and lawmakers.
"Presidential advance team was attacked in Katsina and even soldiers guarding the president were attacked in Abuja. Some of them were killed. It looks as if this administration has decided to force Nigerians to seek self-help.