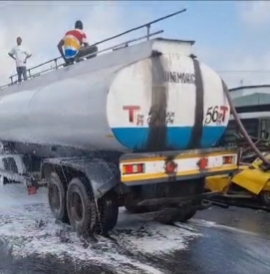 Community
Truck driver, passenger rescued in Lagos accident
… one injured as fire guts 14 rooms 
CITIZENS COMPASS —Emergency providers in Lagos State, have rescued a truck driver and an adult female passenger in an accident involving two trucks around Oshodi area inward Ikeja – Along the Agege-Motorway, over the weekend.
The accident occurred at about 06:01hours as confirmed by Adeseye Margaret, the Director, Lagos State Fire and Rescue Service. 
According to her, the accident involved a tipper-like truck with number plate, MUS 125 XV and a trailer with number plate, JJJ 405 X.
She said mo life was lost. 
In her updates, she said, "There has been an accident involving a tipper-like truck with registration number, MUS 125 XV and a trailer with registration number,  JJJ 405 XT at the PWD bus stop, Agege Motorway, Ikeja at about 06:01hours on Saturday.
" The Ikeja Rescue team of the Lagos State Fire and Rescue Service was deployed, which on arrival discovered that the  truck accidentally rammed into the stationed trailer while in motion from Oshodi inward Ikeja Along after losing its passenger's side front tyre. 
"A male adult driver and an adult female passenger were rescued alive with the help of the first aid treatment that was administered on them by health responders of the Lagos State Ambulance along with the Lagos State Response Unit that later carried the victims to the nearby Lagos State University Teaching Hospital for further treatment while efforts is ongoing to evacuate the vehicles off the road."
Similarly, one person was injured on Friday, when fire gutted 14 rooms were 
at number  21- 23 Ikemo Street, by Police Corner, Ojo area of Lagos. 
Confirming the incident, the Director confirmed a fire outbreak to on Friday, September 8, 2023, in her updates, 
" A Fire outbreak has occurred at a residential building at no 21- 23 Ikemo Street, by Police Corner, Ojo Lagos.
" The Fire started in a bungalow consisting of 32 single rooms of various sizes which was ignited through the use of camp-gas for cooking at the passage. 
" The ensuing inferno was, however, subdued before it could spread beyond the compound as it affected 14 of the rooms while 18 rooms were saved and adjoining properties. 
" Furthermore, it was revealed through investigation that the passage is regularly used as a kitchen with over 15 camp-gas invariably aiding the velocity of the spread of the Fire.
" The dexterity and quick response of firefighters prevented an explosion and the spread of the inferno to other rooms and adjoining buildings. 
" The victim, a female adult who ignited the Fire, suffered  first degree burns but was in stable condition and has been taken to a nearby hospital."