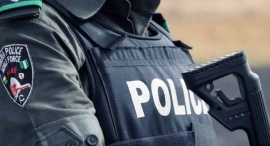 CITIZENS COMPASS – THREE arrested health workers in Ondo State have claimed that a stray dog invaded their hospital, the Emure Ile Comprehensive Health Centre in Owo Local Government Area of Ondo State and carted away a placenta.
The workers said this during interrogation by the Police. 
Ondo State Police Command, on Tuesday, confirmed the arrest of the trio in connection with the disappearance of the placenta. 
According to the police, the suspects included a nurse, a health assistant and a security officer but the identities of the suspects were not revealed.
However, while the father of a newborn, Tunde Ijanusi, and other family members continued to demand for the placenta after his wife delivered the baby girl at the hospital, the arrested health workers claimed a stray dog invaded the hospital and carted away the placenta.
Lamenting over the development, the 23-year-old father said the refusal of the health workers to give them the placenta was worrisome, adding that necessary action must be taken to ensure that justice was served in the matter.
He said, "The baby girl was born on June 15, 2023, at the Comprehensive Health Centre in Emure Ile, and since then the health workers that took the delivery had not given us the placenta. We are very worried about this."
The paternal grandmother of the newborn, Funmilayo Ijanusi, said the hospital workers claimed that a dog entered the facility and carted away the placenta.
Spokesperson of the Command, Funmilayo Odunlami, said the case was under investigation.
"The nurse, the health assistant and the security officer are already with us while an investigation is ongoing," the PPRO Stated.