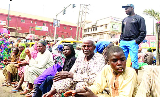 General News
Help! Naira scarcity affecting us – Beggars cry out
CITIZENS COMPASS– THE scarcity of Naira notes in Nigeria is currently taken its toll on the physically-challenged beggars as some  of them have lamented poor patronage across the country.
This is noticeable in Abuja, Lagos, Oyo Ogun and some other parts of the country.
In Lagos State for instance, some beggars at Ikorodu Garage, Iyana-Ipaja, Agege, Oshodi and Ojodu/ Berger to mention but a few said that the rate at which they receive alms from people has reduced compared with when cash was available in the town.
In Abuja, the situation was same when our Correspondent approached some beggars for interviews.
In some other parts of the country, some beggars claimed that the rate of alms giving has reduced drastically and this is keeping some beggars in hunger.
The beggars called on people in power to wade into the issue to enable them get patronage.
They also lamented that the decline in almsgiving had led to many physically-challenged beggars facing serious problems with feeding and meeting basic needs.
At Ketu area of Lagos, a physically challenges beggar said he married three wives with nine children and taking care of them is no longer easier like before.
The beggar who gave his name as Lateef Omowale said the daily arms he received was enough to feed his family coupled with the favour he enjoys from the state government.
"Things have changed drastically for the past three months when the e-Naira policy was introduced by the government. Many people who willingly give me alms rarely come out and when they do, they complain bitterly.
"Some car owners who purposely come to Ketu to give me food and cash are no longer forthcoming. One of them was here yesterday and all he told me was that he came by public transport to pick some items." said Lateef.
At Ojodu/Berger, a female beggar Asabe Fatia said she was yet to take breakfast at about 4pm unlike before when she would have eaten twice. "Things are hard o. Can you believe that I am yet to eat breakfast because nobody brought alms. They just pass and wave hand. "
In Abeokuta, some beggars were sighted at Kuto area shooting, "give us money to feed, give us money to drink water, help your neighbours and God will reward you…."
One of them simply identified as Mariam said they work for an agent who transported them from a village in Kano every January and return them in December.
According to her, over twenty of them are being lodges in an apartment and receive 40% of their daily proceeds. $However, things are very tough as we hardly make money for the past three months and the agent is contemplating of returning us to the village till things normalize and the issue of cash crunch is resolved by the government.
"I have two children ages three and five who have not eaten today except a sachet of water and snacks that were  given to them by a woman who noticed that they were crying for food."
Mariam said the nationwide shortage of Naira had slowed down the pace at which they received assistance from people and organisations, lamenting that the scarcity was making life unbearable for them.
Recall that the Central Bank of Nigeria had in December, launched the currency redesign programme aimed at tackling inflation and mopping up excess liquidity outside the banking system.
The President's directives to remove the old N1000, N500 and N200 naira notes from circulation, however, caused a naira shortage as a result of this redesign.
Nigerians have continued to experience difficulties in accessing cash and this has led to long queues at Automated Teller Machines, while Point of Sale agents charge exorbitant fees for cash withdrawal.
While the Supreme Court has ruled against the naira redesign policy and ordered that the old notes naira should continue to be legal tender till December 31, this year, there is yet to be a respite from the naira scarcity.
Another beggar, Suraju Talleh, pleaded with the president to find a solution to the naira scarcity issue in the country, stressing that many people were being impacted by the scarcity.
He added, "Before the whole naira issue, I used to make over N4,000 daily, but it is difficult to even see N100 now.
"People don't have enough cash so how can they give from the little that is not even enough for them?"
The beggars called on well meaning Nigerians to come to their aid by giving alms regularly.