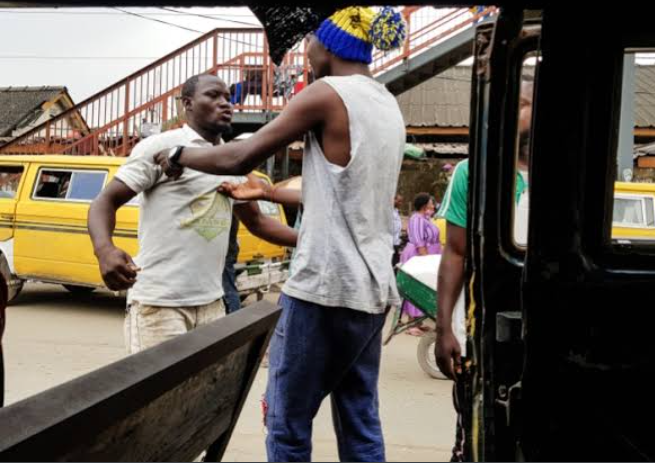 CITIZENS COMPASS-HELP! Touts have taken over Lagos, road users lament
Road users in Lagos State have lamented the activities of suspected hoodlums across the state.
A cross section of the road users said such activities are much noticed  in places like Oyingbo, Costain, Ikorodu, Ketu, Ojota, Mile 12, Agege, Lagos/Badagry Expressway, Egbeda, Ikotun, Isheri-Idimu, Agbado-Ijaiye, Ogudu,  Iyana-Ipaja, Iyana-Oworo, Ojodu, Ipaja/Ayobo, and Lekki/Ajah to mention but a few. 
Some of the residents claimed that it is now a common sight to see the suspected touts wielding long sticks and pipes on major roads and running after motorists especially truck drivers to extort them.
Three weeks back, Citizens Compass embarked on a journey between Mile 2 and Cele Niza on Lagos/Badagry Expressway where some suspected touts took over some of the bus-stops to forcefully collected money from transporters.
Within the journey, the transporter who conveyed our Correspondent was seeing parting with a minimum of N200 at about nine bus-stops before she alighted from the bus.
Narrating his experience, Mr Salau Husein said it is now a regular feature for some suspected touts numbering about 50 and loitering around Costain and its environ to extort motorists. 
A resident of Ikorodu, Mr Damilola Ayankunle (not really name) who narrated his encounter with some touts said, "I was driving at Ikorodu from Ayangburen Road.
While I was about to make a U-Turn at Ikorodu roundabout between 8pm and 9pm. 
"I was deceived by my Car gauge and suddenly my ignition went off. 
I quickly pulled out the keg from the back of my seat and filled the car with the available fuel. 
"As I was about to continue the journey, some set of guys were approaching me shouting "Hey! Hey!! 
Don't worry we will help you. 
"I quickly understood that they were hoodlums collecting "Omo Taku's money"
I quickly turned on my car's ignition, to my surprise, those guys were fast to remove my side mirror. 
"I was not only annoyed but felt insecure at the popular Ikorodu Garage Roundabout. It's So Sad!"
A transporter who shared his experience with Citizens Compass said between N4,500 and N6,000 per trip being a daily extortion between Mile 2 to Badagry to avoid his side mirror being smashed by the suspected touts. "This alone can cause an increase in fates," he said
Meanwhile, Lagos State Police Commissioner, CP Abiodun Alabi on arrival in Lagos,.said he will make the state ungovernable for hoodlums.