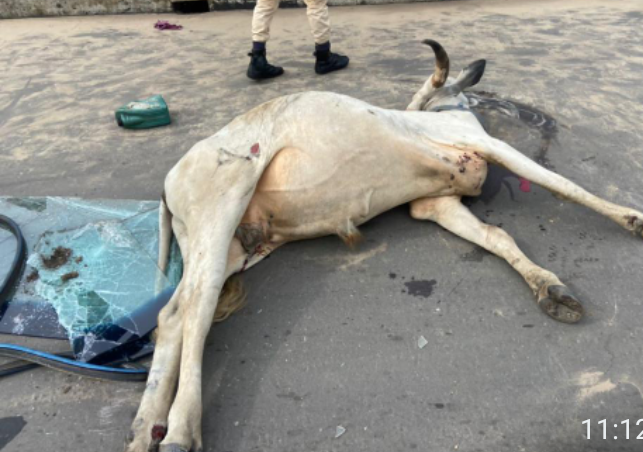 THERE was civil disturbances on Monday, at Agogo Igbala, near Age-Mowo, along Lagos/Badagry expressway, in Lagos State, following the murder of a man by two suspected herdsmen, after their cow was hit and killed by an LT bus.
According to eye witnesses' account, the incident occured at about 9.30am when the bus driver and conductor were scouting for passengers inward Age- Mowo.
An eye witness, Afeni Iremide said the LT bus with number plate, FKJ 756 XH, ran into a herd of cattle, killed a cow and injured another.
"On noticing this, the herdsmen took a chase after the bus until both the driver and conductor abandoned the bus and flee the scene.
"Not satisfied, the herders slaughtered the injured cow and laid siege to the scene thinking that the driver and conductor will return to pick the vehicle.
"Shortly after this, an innocent man was seen near the bus and the herders mistook him for the bus conductor, attacked stabbed him to death.
"The incident occured near a Police Station," he said.
Citizens Compass watched some videos of the incident online where a male voice was heard shouting in Yoruba meaning, "Ha! I know him o, we were together three days ago…"
This sparked violence in the area but Police intervened.
Another eye witness simply identified as 'Senator' said the Policemen were prevented from picking the corpse but they called for reinforcement from the Military and he was deposited at the morgue of the General Hospital, Badagry.
The Spokesperson, Lagos State Police Command, SP Benjamin Hundeyin confirmed the incident in his tweets saying both herders have been arrested "A commercial vehicle ran into two cows this morning at Agemowo, Badagry, killing one of the cows. The two cattle herders attacked someone they mistook for the vehicle conductor, resulting in his death. Angry residents blocked the highway in protest of the killing.
The DPO, Morogbo Division, assisted by soldiers from 243 Recce Battalion, Badagry successfully cleared the obstruction. Normalcy has since returned to the area. It is entirely false that the victim was turned back when he sought refuge in the police station.
He did not make it off the accident scene, let alone reach the station. Meanwhile, the two herders have been arrested.