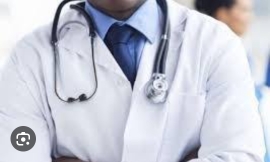 Health
How faulty elevator allegedly kills doctor in Lagos general hospital
CITIZENS COMPASS – TWO weeks before the completion of her housemanship, a medical doctor, Vwaere Diaso, has allegedly been killed by a faulty elevator in a general hospital in Lagos.
Nigerians, especially Lagosians have taken to social media to express their outrage over the demise of the medical doctor.
The incident occurred at the General Hosipital, Odan, Lagos (popularly known as the Lagos Island General Hospital).
According to reports, Diaso lost her life just two weeks to the completion of her horsemanship at the general hospital.
Diaso, we learnt was severely injured when the faulty lift she entered on the 10th floor of the doctors' quarters crashed to the ground on Monday night of August 1, 2023.
The report quoted a source as saying that "She completed her medical degree at Babcock University and had just two weeks to completing her housemanship at the General Hospital, Odan, Lagos Island.
"She had entered the elevator at the doctors' quarters to collect her food from a dispatch rider who was waiting for her downstairs. She was in the elevator when it cra§hed from the 10th floor to the ground. She was rushed to the emergency ward where she passed away. We have been complaining about this malfunctioning elevator for the past one year and nothing was done about it.
"This incident could have been totally avoided."
The source further disclosed that "it took about about an hour for responders to get her out of the damaged lift and when they got to the emergency ward, there was allegedly no blood to transfuse into her."
Read other reactions from her colleagues below:
@kristeana08: "Particularly aggrieved because we've complained for a long time about this elevator. We've maneuvered, managed and prayed each time we had to use it. Empty promises will be made to fix it….till it killed one of us💔been totally avoided."
@MsVotie: "A doctor tried to speak to a journalist about this elevator. He made the journalist to promise he was going to keep him anonymous.
"Journalist tried to reach the Commissioner for health who promised it will be looked into. Now person don die inside the elevator. 
@kiky_festus: "All she wanted to do was get her food from a dispatcher downstairs 😩
"It even took them an hour to get her out of the elevator😩😩
"She was still conscious even with fractures, she was taken to emergency and then another delay, no blood. This country failed her."
Her colleagues in the general hospital have downtooled following her death.