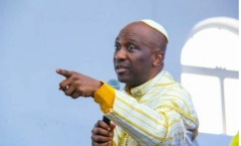 Foreign
How Primate Ayodele foretold powerful earthquake in Morocco
CITIZENS COMPASS —THE Spiritual Leader of INRI Evangelical Spiritual Church, Primate Elijah Ayodele has lent his voice to Morocco's devastating 6.8-magnitude earthquake which struck the country late on Friday night claiming over 2,000 lives on Friday night. 
The Primate said he had earlier predicted this although many people did not belive in the prediction. 
Spokesperson of the Primate, Oluwatosin Osho disclosed this in a statement on Sunday September 10, 2023.
The statement reads, "Morocco's devastating 6.8-magnitude earthquake which struck the country late on Friday night has claimed over 2,000 lives — making it the deadliest the country has seen in decades.
*At about 1,404, others remain in a critical condition, according to Morocco's state TV Al Aoula.
"The earthquake struck at around 11:11 p.m. local time (6.11 p.m ET). The epicenter was in the High Atlas mountains, about 72 kilometers (45 miles) southwest of Marrakech, a popular tourist city of about 840,000 people.
" The last time a situation like this happened in Morocco was in 2004 but it wasn't as deadly and disastrous like this. No doubt, it will take several years for the country to recover.
" Sadly, this incident has confirmed the prophecy of popular Nigerian prophet, Primate Elijah Ayodele which he shared in his 2023 prophecies which were released on Friday, 23rd Of December, 2022.
" The prophet in an 78-page prophecy for the world at large stated that there will be disastrous situations in the African continent. He called on leaders and presidents in the continent to pray against any form of natural disasters including earth tremor, earthquake, deadly flood situations and many more.
'' Let's pray against nuclear attacks and serious flooding in so many parts of the world. There will be a lot of climatic problems that will affect lives. Climate change will cause volcanic eruptions, earth tremor, landslide, major accidents and earthquakes.''
"In another publication later, Primate Ayodele mentioned that there will be natural disasters in the African continent. He stated that things that ordinarily don't happen will start happening in the continent, while asking leaders in the continent to be watchful.
"The nature of the morocco earthquake has no doubt confirmed the prophecy of Primate Ayodele in the North African country."