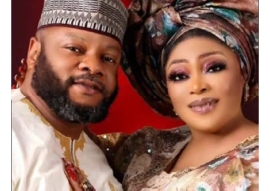 CITIZENS COMPASS – A London-based entrepreneur Demola Odulaja and husband of popular Lagos socialite Farida Sobowale has narrated his experience in the N100m marriage which crashed within two months. 
He disclosed this after his enstraged wife attempted to jump into the Lagos lagoon. 
According to Demola, he had been in a relationship with Farida for over 20 years.
Demola stated that he ended his marriage with Farida due to her unconstrained and promiscuous lifestyle, easily shifting from one guy to another in a succession of personal relationships.
He said Farida was having many personal encounters with him and other guys at the same time, all of which happened years before they married.
He stated that Farida had been romantically involved with 18 people, all while being married to him.
Recall that the lady, Farida Abdulkabir, said she chose to plunge into the lagoon from the Third Mainland Bridge because the marriage eventually crashed within two months.
Abdulkabir who is also the owner of House of Phreedah cited frustrations, failed marriage and many other reasons as what propelled her action on Thursday night.
In a viral video on social media, she said her N100 million marriage with another Lagos socialite, Demola Okulaja, crashed after two months.
Abdulkabir was seen being pacified to desist from jumping, while rescuers were seen assuring her there was no need to take her life but all would be well with her before she was whisked away into her vehicle and taken to an undisclosed destination.
The fair-complexioned entrepreneur and socialite, owns a beauty lounge and spa located at Akerele Street, Surulere, Lagos.
As a fallout of her crashed marriage, Farida who could not endure depression decided to end her life as she alighted from her black-coloured Sport Utility Vehicle on the Third Mainland Bridge to plunge into the lagoon.
She was married to a Lagos socialite, Demola Okulaja, in a grand marriage about two months ago.
Abdulkabir said after Okulaja walked out of the matrimonial home, she's been frustrated with many suicidal attempts.
She said, "Friends and families warned me not to go into the marriage. They told me that the man only wanted my money but I was recalcitrant.
"I am so sorry for putting my children in such a position. I would not have forgiven myself if I had abandoned them after committing suicide."
Meanwhile, Farida and her estranged hubby engaged in altercations, revealing shocking family secrets on social media, attacking themselves, and calling themselves ridiculous, unprintable names.