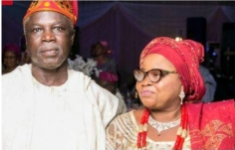 Community
I don't know how to cope without Lai Osho – Widow 
CITIZENS COMPASS – Mrs Abimbola Oso, wife of the late renowned professor of Mass Communication at the School of Communication, Lagos State University (LASU), has described her husband as a pillar and banner that shielded all.
Abimbola stated this in an interview with the News Agency of Nigeria (NAN) in Sagamu, Ogun.
NAN reports that late Oso, aged 67, died in a car accident on June 24, while returning from a conference at the Delta State University, Abraka.
"I don't know how l will cope with the terrible loss of my husband because there is nobody to wait on me again.
"He was a husband, father, mentor, a humble man and a giver.
"He was a selfless person who cared for his family and others and made other people's problems his own.
"He is indescribable because he was a pillar and banner for us all," she said.
The widow added that as an intellectual, the late Don was always concerned about the development and progress of his students.
"My husband will be sorely missed but l take solace in God, " she said.
Also, Mrs Simisola Asekun, daughter of the deceased, expressed sadness at the passing away of her father.
She described the late renowned professor as a family oriented man who served his family all his life and gave the best of everything at his disposal.
"I will miss his words of encouragement, they were always simple but loaded."
Similarly, Mr Moyosola Oso, the deceased son, said his father was a great man who lived an exemplary life.
He said: "Instead of teaching us the morals of life, he lived it thereby, we didn't have a choice than to follow his footsteps instead.
"Also, his impact is not in material things but in people. He invested in people by encouraging them to be the best in what they want to be.
"My father was optimistic and believed in the betterment of Nigeria and l will sorely miss his words of assurance that there will always be light at the end of the tunnel."
NAN reports that the late don also worked as a correspondent in both Radio Nigeria and the News Agency of Nigeria.
He taught Media and Communications at the Moshood Abiola Polytechnic, Abeokuta, Ogun; Caleb University, Imota, Lagos; and LASU, Ojo, Lagos.