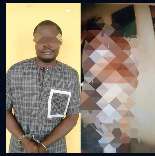 CITIZENS COMPASS– A 46-year-old suspect, Hassan Azeez, has confessed that hard times in the country has pushed him to allegedly sett his wife, Olayinka Hassan ablaze in Ogun State.
He was arrested on Sunday, January 22, 2023, by men of Ogun State Command who are currently interrogating him.
Spokesperson of the Command, SP Abimbola Adeyemi disclosed this in a statement over the weekend.
The suspect was said to have poured petrol on his wife before setting him ablaze.
According to the statement, the suspect said hunger, anger and the Devil pushed him into the crime because his late wife refused to give him food when he asked for it but was busy washing clothes.
The Spokesperson said the suspect was arrested following a report lodged at Ibogun Divisional Headquarters by the victim's father.
The complainant was said to have reported on October 22, 2022, that her daughter, Olayinka Hassan was set ablaze by her husband over a minor disagreement, and that the victim, a mother of one, has been rushed to a hospital in Ibadan.
He said, ''Upon the report, the DPO Ibogun Division, CSP Samuel Oladele quickly mobilized his men and moved to the scene. But before getting there, the suspect had escaped. Since then, the police operatives have been on his trail until 22nd of January when he was eventually apprehended.
"Upon interrogation, the suspect who claimed to have ran away to Benin Republic confessed to the commission of the crime but blamed it on the devil.
"According to him,
He asked the victim to prepare food for him but instead of the victim to prepare his food, she was busy washing clothes. He stated further that he got annoyed because he was hungry and the annoyance made him to pour petrol on her and set her on fire.
"When asked whose clothes the woman was washing, he confessed that it was his clothes." Oyeyemi said
The suspect has been transferred to the Homicide section of the state Criminal Investigation Departments for further investigation and possible prosecution.