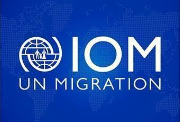 CITIZENS COMPASS– THE International Organization for Migration (IOM) has assisted over 28,000 Nigeria Returnees from from Libya through its Voluntary Assisted Programme.
This occurred between April 2017 and September 2022.
Disclosing this in it's quarterly newsletter from October to December 22022,  IOM Media contact, Ms Mariam Owoeye said the Returnees have been assisted to voluntarily return home between April 2017 and September 2022.
According to her, the partnership between the European Union under the EU-IOM Joint Initiative for Migrant Protection and Reintegration has been instrumental in helping give Nigerians a new perspective back home.
She said over 3,000 Nigerian migrants from Libya have returned home since January 2022.
The newsletter stated that at one of the arrivals, 126 migrants arrived Lagos in the 13th charter flight from Libya.
The voluntary humanitarian flight with 62 women, 46 men, 8 children and 10 infants onboard departed from Tripoli,  and landed safely at Murtala Muhammed International Airport in Lagos.
recounting his experiences in Libya, one of the Returnees, simply identified as Emmanuel said. "I traveled to Libya to start working there, but life was challenging due to the conflict. The availability of jobs was extremely scarce.
"I am glad to head home finally and see my family again," said the 36-year-old Returnee.
Victor Lutenco, Senior Migration Management Programme Coordinator and Head of IOM Lagos Sub-office said,
"The Voluntary Humanitarian Return flights contribute to achieving safe, orderly and dignified migration. It safeguards the human rights of migrants, upholds international principles and standards, and contributes to preserving the integrity of migrants,"
Prior to departure, the returnees underwent health checks including COVID-19 tests and received hygiene kits containing face masks and other protective gear. IOM also provided them with pre-departure counselling services, protection screening, transportation assistance and targeted assistance to migrants with specific situations of vulnerability such as pregnant women, unaccompanied migrant children, victims of trafficking and migrants with medical conditions.
Upon arrival, the returnees were assisted with food and refreshments, and a mobile phone to contact their families and remain in touch with IOM as they receive reintegration support, while vulnerable individuals are provided with non-food items such as clothes, shoes and other essential items.
"The EU, together with IOM, remains committed to sustainable reintegration of returning migrants as well as to strengthening national mechanisms and relevant actors in the reintegration sphere for the benefit of all returnees," noted Eleni Zerzelidou, International Aid/Cooperation Officer for Migration Drugs and Organised Crime.
The returnees were hosted for the first seven days at IOM's new Migrant Transit Centre in Lagos. The centre has been fully operational since May 2022 and offers multiple services. With the capacity to host up to 400 migrants, the centre offers services including direct medical assistance, mental health and psychosocial support (MHPSS), counselling, fresh meals and a safe, clean, and secure location to rest.
During the stay, IOM also provided business skills training to help them to kickstart income-generating activities as part of their reintegration assistance.
IOM, Lagos State Emergency Management Agency (LASEMA) and National Commission for Refugees, Migrants and Internally Displaced Persons (NCRFMI) run the transit centre collaboratively, with diverse responsibilities for each entity.
Libya has long been an important transit and destination country for migrants arriving from different parts of Africa. IOM's latest DTM report indicates that Nigerian migrants make up 5 per cent of migrants in Libya, the country's fifth largest migrant population. According to IOM data, Libya followed by Niger and Mali are the primary transit countries for Nigerian migrants.
–IOM Quarterly Newsletter.