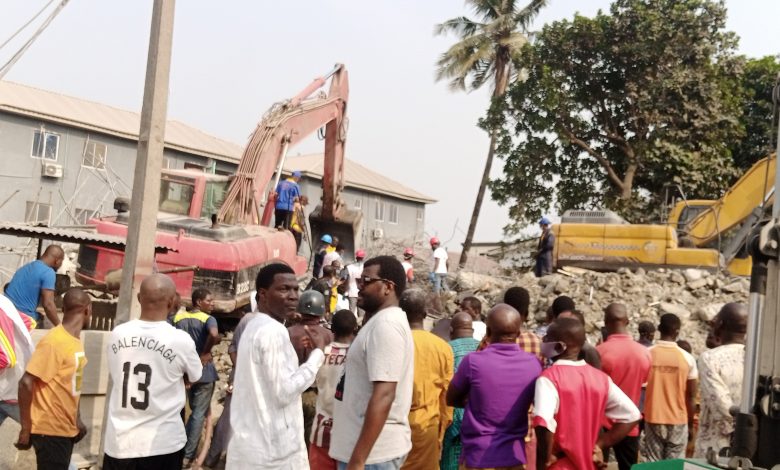 TWO more bodies were recovered on Sunday, from the rubbles of a three-storey building that collapsed in Yaba area of Lagos, bringing the total casualty figure to five.
Mr Ibrahim Farinloye, Zonal Coordinator South-West, National Emergency Management Agency (NEMA), confirmed the development.
One of the bodies was that of a boy, Damola,  who was observing his Industrial Training at the site before the building collapsed on him and some construction workers.
However, the scene recorded two survivors so far.
Farinloye said that out of the two survivors of the collapsed building, only one of them was actually trapped while the second person, a teenager, escaped by sheer luck after he complained of hunger.
He said,
the building collapsed a few minutes after the teenager left the structure to go and buy food,"
The NEMA Zonal Coordinator added that residents of the area mobilised resources to rescue the only survivor from the rubble.
He said that rescue and recovery operation was carried out by NEMA, Lagos State Emergency Management Agency, the fire service and the Police.
Recall that a three storey building on Saturday collapsed at No. 16, Akanbi Crescent, off Adesina Street, Harvey, Sabo, Yaba area of Lagos, trapping five persons.
Damola's relatives were said to have  reported that their son was missing and that he was supposed to be on site at the time of the building collapse.
His body was later recovered at about 4. 15pm on Sunday.
Another body that was recovered at about 1.12am was that of Monday Lar who worked as a guard before the unfortunate incident. 
His brother, John Lar said they are both indigenes of Plateau State.
At press time, affected families and onlookers were seen at the scene. 
Search and rescue were ongoing at press time. 
Reacting to the collapsed building, the state's Commissioner for Physical Planning and Urban Development, Dr. Idris Salako, in a statement titled, 'Onike Building Collapse: LASG Rescues Survivor, Arrests Developer', said the developer who handled the project has been arrested.
Giving details on the tragedy, the commissioner said that the incident occurred around 3.30pm on Saturday, and that the building was under construction and at three floors, suspended slab before it collapsed.
Salako stated that preliminary findings indicated that the site had been sealed-off on two occasions by LABSCA in 2021 for non-compliance with building regulations after which the site was abandoned.
However, the developer later broke Government Seal, sneaked into the site and re-commenced construction without official authorisation.