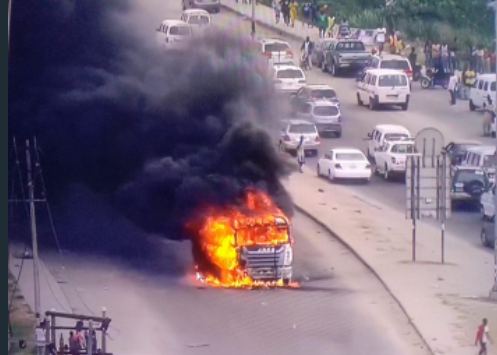 THERE was pandemonium in Lekki-Epe, Lagos, on Tuesday, after a truck reportedly crushed a commercial motorcyclist popularlly known as'Okada rider and a passenger to death.
Eyewitnesses' account said the incident occured in the morning by Eleganza bus-stop, when the rider riding against traffic with a passenger on board, was hit by a speeding vehicle before the Okada was crushed by the truck.
It was learnt that on noticing the incident, colleagues of the rider mobilised and set the truck ablaze.
Miscreants seized the occasion to set bonfire and took laws into their hands but the truck driver was able to escape the scene.
People were seen scampering for safety while many ran to a nearby plaza for safety.
Lagos State Police Command were able to douse the tension by dislodging the miscreants 
In a statement, Spokesperson of the Command, CSP Adekunle Ajisebutu said, "Police have dislodged miscreants who set bonfire on Lekki – Epe Expressway by Eleganza over an accident involving a motorcycle and a tipper truck.
The motorcycle, riding against the traffic was said to have been hit by a speeding vehicle before the rider and the passenger were crushed by a tipper.
"Police have made significant arrests with many bikes impounded while the road has been cleared," he said.
At press time, normalcy has returned  as Policemen were seen controlling the traffic inward and outward Ajah.
Ajisebutu said the Area Commander, ACP Jide Agboola, Commander, RRS, CSP Yinka Egbeyemi , Chairman, Lagos Taskforce, CSP Shola Jejeloye and Divisional.Police Officers of stations were on ground