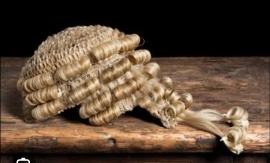 News
Judge raises alarm over use of charms in Lagos court
... Adjourns murder case till 2024
CITIZENS COMPASS —Justice Hakeem Oshodi of Lagos State High Court sitting in Ikeja on Monday, raised the alarm over the rate at which people droo charms in his courtroom. 
He warned against dropping charms in his courtroom. 
Oshodi gave the warning after the commencement of the trial of five men charged with the murder of one Ifeanyi Etunmuse on Monday, November 20, 2023. 
Before adjourning the case till February 19, 2024, he said; 
"No one should leave charms in my courtroom. It should not be repeated.
A talisman was found after the last adjourned date in the murder case. Do not leave your property here again. It does not work anymore.