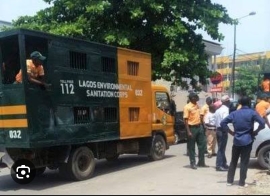 Articles
KAI arraigns 10 oil workers for attacking operatives 
CITIZENS COMPASS —In continuation of concerted efforts by the Lagos State Government towards ridding the State of illegal street, highway trading, the Lagos State Environmental Sanitation Corps (LAGESC) popularly known as KAI has apprehended and arraigned some staff of 'Capital Oil' for attacking operatives and destroying operational vehicles of the Agency. 
The suspects were arrested for obstructing the arrest of street traders along Lagos-Ibadan Expressway. 
The Corps Marshal of the Agency, CP Gbemisola Akinpelu (retd) disclosed this at the Agency's Command Headquarters, Bolade-Oshodi on Tuesday, August 28, 2023. 
According to her, 'our gallant operatives on a routine raid of flash points for street, highway trading discovered a horde of street traders on the setbacks of Capital Oil on the Lagos-Ibadan expressway and in the course of effecting arrests of street traders, some staff of the filling station harbouring these traders attacked us, thereby causing damage to our operational vehicles in the same vein but we ensures that we arrested 10 members of staff involved".
Akinpelu disclosed the suspects as Emmanuel Chuks (M) 48, Wasiu Ajape (M) 31, Oliver Okonkwo (M) 63, Chinedu Okeke (M) 42, Vivian Aquocha (F) 30 , Usman Kolawole (M) 50, Prista Mary (F) 38, Lookman Busari (M) 52, Adekunle Adefemi (M) 50, Justina Anya (F) 49, Azaram Amarachi (F) 30, Maureen Nwafor (F) 35, Ahmeed Ahmid (M) 30, Doria Ibeh (F) 42, were subsequently arraigned before an Oshodi Magistrate Court on Friday, 25th of August, 2023 on a one-count charge bordering on obstruction and abetting street and highway trading. 
She also highlighted that the court granted bail to the 10 convicts in the sum of 100,000 Naira respectively with conditions to provide civil servants as sureties in like sum and adjourned the case till Friday, 8th of September, 2023. 
The retired Commissioner of Police also issued warnings to private, public and commercial residences to desist from harbouring street traders and mobilising for attack on the Agency's operatives just as she emphasised on the consequences attached to such heinous act which includes imprisonment.