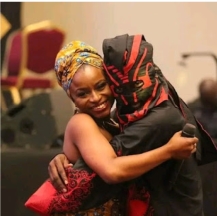 CITIZENS COMPASS —Ego Ogbaro, a Nigerian singer, who was well-known as the backup singer, for Bisade Ologunde, a Nigerian afrobeat musician, popularly known as Lágbájá, has lost her husband, Victor Niyi Ogbaro, to the cold arm of death. 
The couple had lived separately ffor some time, and Ego, née Iheanacho, had reportedly removed Ogbaro from her name.
Niyi used to be Ego's manager after she stopped working with Lagbaja, a singer-songwriter and percussionist widely known for his signature use of a mask which covers his identity.
'Lagbaja' believes in social reform through music.
Ogbaro unfortunately passed on in America on August 30, 2023.
Chris Kehinde, a Nigerian journalist, shared the sad news on social media on Thursday.
He posted a picture of the couple on his Instagram page while lamenting about Ogbaro's untimely death.
"Ohh no, Victor Niyi Ogbaro. This can't be true. Victor, a regular commentator on this page and husband of Ego Ihenacho, the popular voice on those Lagbaja songs, died today from what I just learnt. May his soul rest in peace," he wrote.
Ego and Niyi got married in 2009, but reportedly lived apart for a while.
The couple sparked breakup rumours after the singer removed her husband's name from her social media accounts.