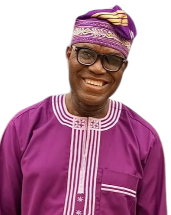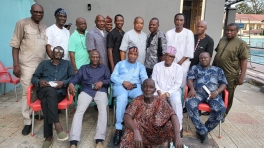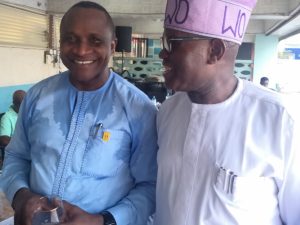 By Bose Adelaja 
CITIZENS COMPASS —The Ijebu – Ode Grammar School, Ijebu-Ode Old Boys Association, Ogun State, Year 74/79 Set (JOGS 74/79 Set) on Sunday, held her 297th monthly general meeting with the focus to plan ahead for its 5oth anniversary in Year 2024.
The meeting was held at the swimming pool side of Lagos Country Club, Ikeja ,with Pharmacist Wale Oyenuga, the host for the month of November 2023. 
Among the issues raised were insurance packages for members and their families at discounted rates. 
JOGS 74/79 President, Barrister Wale Ogunade highlighted the breakdown of packages on life insurance policy urging members to key into it as it is of utmost importance to all. 
Furthering, he said the 50th anniversary of the Set will come up in the Year 2024, and will be glamorous as members in the Diaspora have keyed into the programme as committees have been set up. 
On Pep Talk, a member, Mr Osiboni Osibanjo who spoke on the use of fairly used tyres advised members to change the rear tyres to the front and vice versa quarterly. 
He advised members to be safety conscious. 
A safety expert, Mr Bayo Awonuga spoke on moderacy urging members to avoid doing things in excess. 
The meeting also harped on dangers of illnesses among men especially prostate cancer. A member, Mr Goriola Matti promised to donate free herbal therapy to any member who is in need of this. 
He urged members who are well to do  to render assistance to members who are in need. 
Former President of the Association, Mr Biodun Bella urged the House to contribute positively to make the 50th anniversary a huge success. 
In his Vote of Thanks, Eng. Sunday Kalejaiye appreciated the host for a well organised hosting. 
A Diaspora member, Adebola Adedipupo gave the closing prayer.