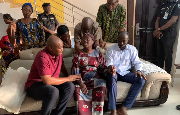 CITIZENS COMPASS– LAGOS state commissioner of police, CP Abiodun Alabi has visited the family of the late female lawyer Omobolanle Raheem who was allegedly shot dead on Christmas Day.
The CP arrived at the residence located in the Ajah area of the state, on Tuesday evening.
The Police Commissioner also signed the condolence register during tje visit.
Speaking during the visit, he assured the family that justice will prevail saying,
The person who did this will not go unpunished,"
he said.