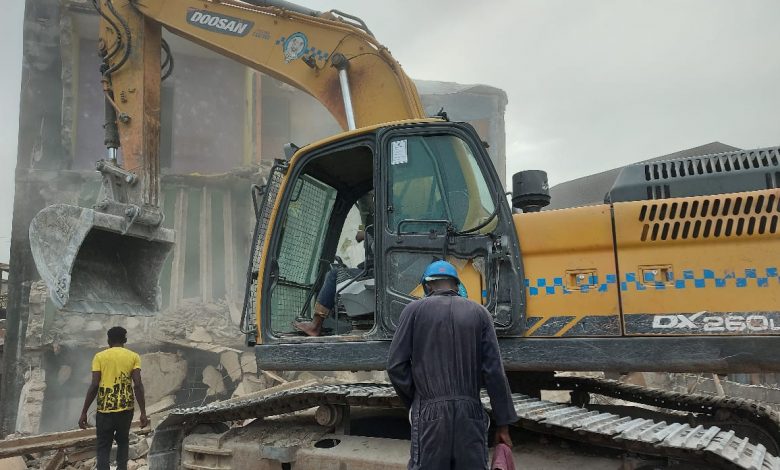 Community
Lagos pulls down two-storey building after partial collapse
LAGOS State Government has pulled down a two-storey building located at 36, Sanusi Street, Somolu area of the State.
This became necessary after the structure partially collapsed with the balcony calving in on Sunday, 8th May, 2022 but the remaining part of the building was pulled down on Monday, the 9th.
This was disclosed by the Permanent Secretary, Lagos State Emergency Management Agency (LASEMA), Dr Olufemi Oke-Osanyintolu in a statement.
Fortunately, the incident did not record any fatality or injury.
Earlier, the State government had announced plans to commence massive demolition of defective structures across the state.
Recall that a three-storey building collapsed last Monday leading to the death of 10 persons while 24 were rescued according to the Coordinator, National Emergency Management Agency (NEMA), Lagos Territorial District, Ibrahim Farinloye.
Confirming the Somolu incident on Monday, LASEMA Permanent Secretary, Dr Olufemi Oke-Osanyintolu,, said the two-storey building had its balcony caved in on Sunday but the remaining part has pulled down at press time.
According to him, after due assessment of the building, it was revealed that
the structure had been marked by Lagos State Building Control Agency (LASBCA), since July 2021, due to visible cracks on it
He said,
Upon arrival at the incident scene, an old 2-Storey building was discovered to have partially collapsed.
"Further investigations revealed that the balcony of the affected building collapsed yesterday (Sunday).
"According to observation and assessment, the building has been marked by LASBCA since July 2021 and is severely distressed with many cracks on the structure.
"Fortunately, no casualty was recorded while the tenants of the building have been advised to move out with immediate effect because the structure is unsafe for habitation.
"In the interests of public safety and to forestall any disaster, the structure will be pulled down to Ground Zero by the agency with immediate effect to avoid any secondary incident.
"Members of the public are to be assured of the commitment of the administration of Mr Babajide Olusola Sanwoolu to public safety, law and order.
Updates will follow."
It will be recalled that a two- storey building partially collapsed on Saturday, at Chris Igadi street, off Ago Palace Way, opposite Kilimanjaro, Okota, Lagos.
The Somolu building collapse makes it the third within a space of one week in the state.
As at 8.40pm on Monday, controlled demolition of the affected building has been concluded.
This was done with the aid of LASEMA's heavy duty equipment.
Osanyintolu said the Agency's excavator has brought the structure to ground zero.