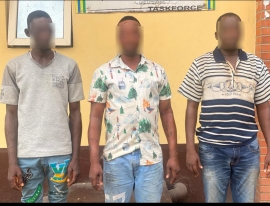 Community
Lagos Taskforce arrests 'Fashola', two others for attacking officers 
CITIZENS COMPASS – SUSPECTED miscreants on Monday, attacked some officials of the Lagos State Taskforce, along Meiran Road, in the Ojokoro area of the state.
It was learnt that the operatives were on routine patrol of the metropolis when they were accosted by the suspected miscreants who tried to forcefully release the driver of a Chevrolet vehicle that was apprehended while driving against traffic (One-Way) along the Road. 
The miscreants numbering about 20 were said to have conveyed themselves in a Danfo bus and brandished various types of harmful weapons trying to intimidate the officers who were carrying out their legitimate duty along that axis.
Speaking on the incident at the Headquarters of the Agency, the Chairman of the Lagos State Taskforce, CSP Shola Jejeloye disclosed that he has been on the trail of a particular miscreant who calls himself "Fashola" and the same individual was the one who led the team of thugs to disrupt the peace and tried to prevent his officers from carrying out their legitimate duties.
We have gotten several reports about this thug called fashola and today he is in our custody for obstruction of Justice. 
My officers and men who were in the process of arresting a man who drove his Chevrolet vehicle on one way suddenly noticed that fashola had quickly mobilised thugs to prevent them from taking him down to the office. The officials applied the required amount of force to douse the situation and arrested the ring leader of the gang and two others. We are on the trail of the rest who escaped and we will ensure that they are arrested and brought to book". Jejeloye stated.
The Chairman further stated that none of his officials were injured during the fracas neither was any of the suspected thugs as erroneously reported by passers by. The officers controlled the environment and tactically fired teargas canisters into the gathering of the miscreants to dislodge them and arrest a few of them.
"We have been tested on many occassions but we always come out superior due to our tactical advantage and orientation. No amount of resistance put up by mischief makers would be enough to deter us from carrying out the lawful duty of protecting lives and property and ensuring that Lagos is safe and secure"
The Chairman sounded a note of warning to others who might try to emulate the actions of the miscreants, stating it would only end in dissapointing themselves, as any one found trying to stand in the way of the law would have to contend with the  law.
Jejeloye stated that the three suspected miscreants would be brought before the Magistrate for offenses bothering on public disturbance, obstruction of Justice, conduct likely to cause breach of peace and a lot more. The driver of the vehicle would also be made to face the full wrath of the law.