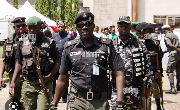 CITIZENS COMPASS– LAGOS State Environmental and Special Offences (Enforcement) Unit (Taskforce), has debunked an allegation that it's operatives have been extorting nnocent motorists at itowolo/Odo Ogun bridge along Ikorodu/Mile 12 Road.
Gbadeyamn Abdulraheem,
Director, Press & Public Affairs
Lagos State Taskforce, made this known in a statement, on Wednesday, February 15, 2023.
He said, "The attention of the Lagos State Taskforce has been drawn to a publication makings rounds about the officials of the Agency engaging in extortion of motorists along Itowolo/Odo Ogun Bridge by demanding for the sum of 20,000 Naira when apprehended for traffic infractions along that route.
The report is not only false but completely misleading and can categorically be identified as the handiwork of mischief makers."
Speaking on the publication which was brought to the notice of the Agency, the Chairman, CSP Shola Jejeloye debunked it outrightly stating that the Lagos State Taskforce has not carried out any enforcement exercise along that axis this year at all.
"The Lagos State Taskforce has not carried out any operations along Maryland or ikeja this year due to reasons bordering mainly on the economic challenges being faced by Lagosians this period.
" It would be utterly unfair to carry out strict enforcements and add to the challenges bedeviling us at this time of our lives. There is a large shortage in supply of cash in the country so where do these supposed motorists get the money to pay with? Is it done via transfers?"
Jejeloye also disclosed that as a show of good faith and empathy with members of the public, last week alone, 21 commercial vehicles impounded for driving on one-way were released unconditionally to the owners to enable them get back on the roads and source for daily incomes and cushion the effects of the economic downturn.
He called the owners of the vehicles to a meeting at the Headquarters of the Agency and warned them to desist from breaking traffic rules before letting off the hook.
The Chairman urged members of the public who might hav been victims of extortion by the supposed taskforce officials to come forward with their claims in order to hel[p the Agency carry out a thorough investigation into the claims.
"As a responsible agency of Giovernment, accusations like these are not just swept under the rug, rather it is investigated thoroughly in order to ensure that impostors aren't carrying out illegal operations and tarnishing our image. We will investigate it thoroughly and make sure that Lagosians are allowed to commute the metropolis without any fear of being extorted".
Ther are other enforcement agencies in Lagos who call themselves "taskforce" but are not affiliated to us in any way. Their actions give us a bad name sometimes and we will make sure we fish them all out.
"A crack team has been deployed to that axis to monitor vehicular activities and if any individual or group is found impersonating the Lagos State Taskforce, they would be apprehended and charged to court immediately"
Jejeloye admonished members of the public who may fall victim to these predators to be patient enough and ask to be taken to the office before parting with their hard earned money.
"I urge members of the Public to report any form of extortion or wrongful arrest by officials of the Agency to me through the phone numbers, social media channels or directly to my officee at the Headquarters of the Agency in Bolade, Oshodi"