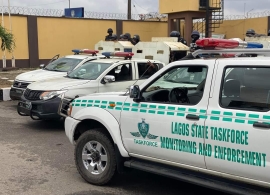 Community
Lagos Taskforce monitors, enforce  compliance at Fagba 
CITIZENS COMPASS – FEW days after the Lagos State Taskforce carried out a clearing exercise in Fagba area of Lagos State, the State Taskforce has commenced monitoring and enforcement to ensure compliance in the axis. 
The Chairman of the Agency, CSP Shola Jejeloye described this set of actions as part of the steps orchestrated by the State Government to completely reclaim and convert the entire axis to something beneficial to residents and Lagosians as a whole. 
Jejeloye assured Lagosians that it would not be business as usual this time around due to the post operational moves being carried to ensure that shanties and makeshift structures hitherto erected would never be allowed to resurface again. He promised to carry out 24 hours monitoring of the railway corridor from Fagba down to Isokoko till infrastructures which goes in line with the Lagos State Mega Master Plan are finally constructed there for public use.
The Agency warns any individual or group that might be nursing the idea of returning to the rail tracks to have a rethink as machineries have been put in place to arrest and prosecute anyone who attempts to display goods or erect shanties there forthwith. A total number of 9 suspects seen trying to rebuild shanties along the rail tracks have been arrested and will be charged to court accordingly.